Companies that are worth more than countries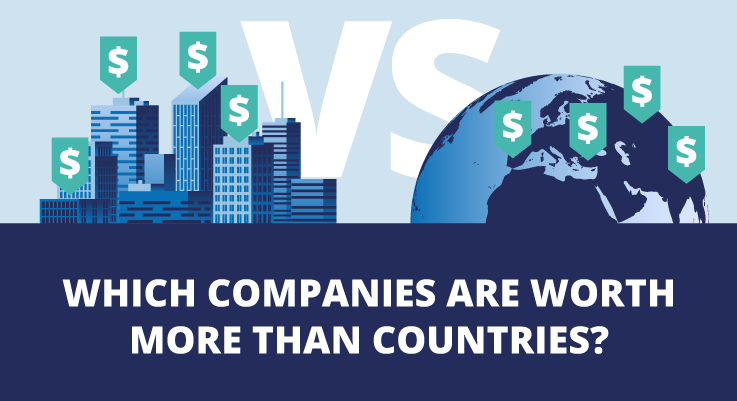 Over the last few decades companies like Apple, Microsoft and Amazon have seen eye-watering growth on a global scale. Through diverse product and service innovation, these businesses have survived economic downturns, political unrest and a constantly evolving market to enjoy profits that overshadow the GDPs of entire countries. 
To put the value of some of the world's biggest corporations into perspective, we have gathered their market capitalisation figures (the estimated value calculated by multiplying the total number of shares by the present share price) and compared it to the GDP (the value of all goods and services produced by a country in an entire year) of major countries. 
Although market cap and GDP represent different things, the comparison highlights the huge scale of the world's most successful businesses and the power their wealth gives them on the global stage.
UK's number one for director advice
We handle more corporate insolvency appointments than any other UK firm; demonstrating our commitment to helping directors and business owners in financial distress.
The team are available now -  0800 644 6080

Apple's worth compared to countries' GDPs
Apple made history in 2018 by becoming the first trillion-dollar company and it hasn't looked back since. In 2021, Apple released a selection of new products including new generations of the iPhone, AirPods and iPad. With Apple Music, podcasts and TV also doing well in recent years, the company's market cap has continued to grow, hitting over $2 trillion in 2021. 
The map below compares this impressive figure to the GDPs of nations around the world. With a GDP of just over $900 billion, Apple's market cap is over two and half times larger than the Netherlands and three times larger than Switzerland. In fact, fewer than ten countries around the world, including the United States and China, have a GDP larger than the tech giant's estimated value.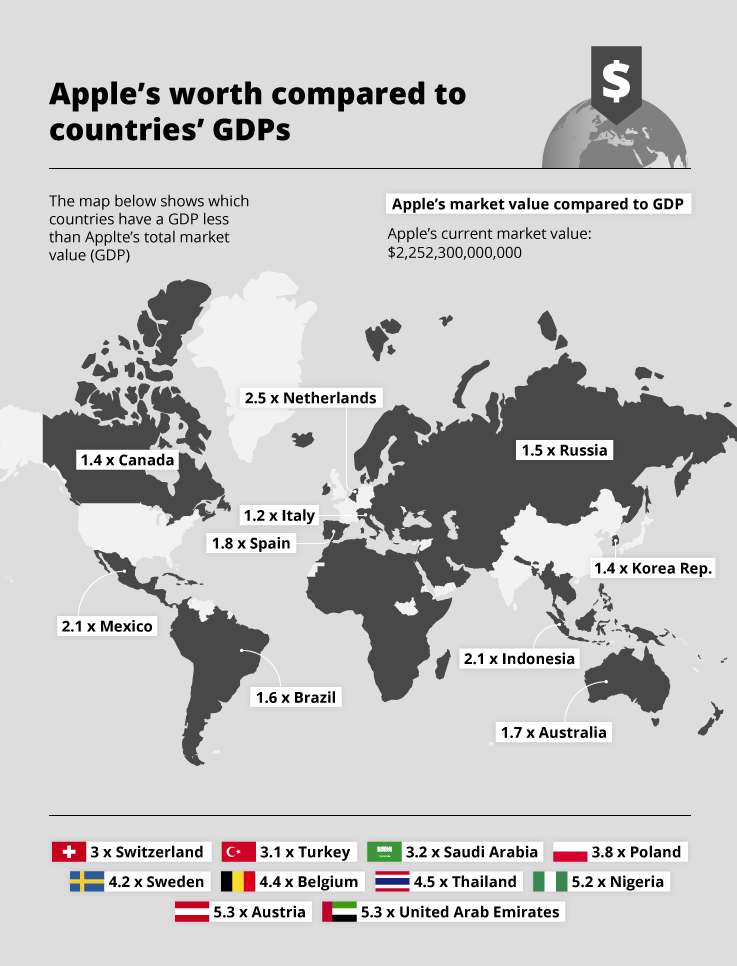 Microsoft's worth compared to countries' GDP
Founded by Bill Gates and Paul Allen in 1975, Microsoft is one of the world's most successful tech companies. Along with most other companies, Microsoft had a rocky period during the 2008 economic crash, however, it's seen impressive business recovery since, increasing its value by 0ver 700% between 2008 and 2021. Over the last few years, new products from laptops to consoles and software have contributed to the company's success and growing market cap of over $1.9 trillion during 2021.
If Microsoft was a country, it would be one of the richest nations in the world with a value larger than the GDPs of countries like Canada, Russia and Spain. Take a look at the map below to see how the company compares to other nations around the world.
Saudi Arabian Oil Company's (Saudi Aramco) worth compared to countries' GDP
The Saudi Arabian Oil Company was founded in 1933 and reached a market cap of over $1.8 trillion in 2021, over two and half times the GDP of its home country Saudi Arabia. 
It has been predicted that the current downturn in the North Sea may result in higher levels of business insolvency and liquidation in the oil and gas sector over the coming years, despite this pessimistic outlook for the industry, the Saudi Arabian Oil Company has been going strong in recent years.
As seen in the map below, when it comes to comparisons to GDP, the Saudi Arabian Oil Company towers over countries like Poland, Mexico and Australia.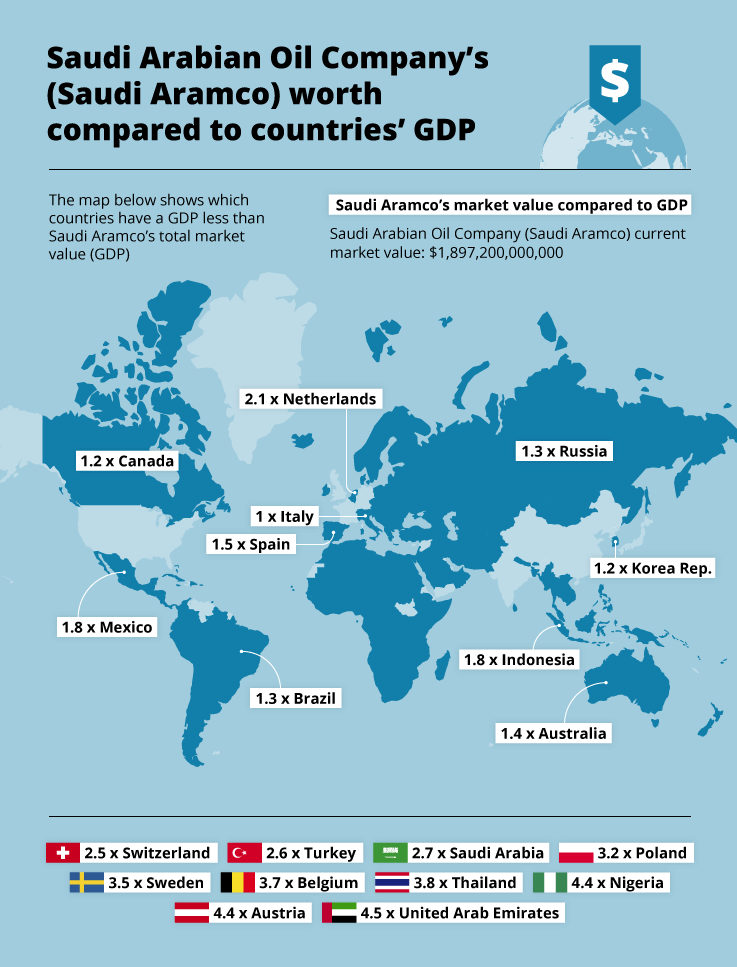 Summary
The past few decades have proven that, as the world becomes increasingly connected, the sky's the limit when it comes to growth for big companies. Although GDP and market capitalization are not like for like wealth metrics, the comparison clearly highlights the increasing power of big business and the corporate future that may await us. 
Methodology
Real Business Rescue sourced data for the GDP of over 200 countries and the current market value of the world's biggest companies. Real Business Rescue then analysed and compared the GDP and market values to find out which companies are worth more than countries. Data collected and is correct as of October 2021. 
A full list of the data is available here.
Free 60 Second Test
For Ltd Company Directors
Get An Instant Understanding Of Your:
Debt and Asset Position
Director and Liability Review
Next Steps
Plus much more ...
Real Business Rescue Recommended
Next Steps
We provide free confidential advice with absolutely no obligation.
Our expert and non-judgemental team are ready to assist directors and stakeholders today.
60 Second Test
---
Understand your company's position and learn more about the options available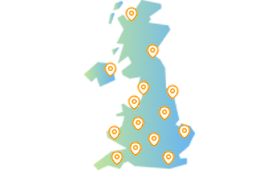 Office Locator
---
Find your nearest office - we have more than 100 across the UK. Remote Video Meetings are also available.
Contact Us Today
---
Free, confidential, and trusted advice for company directors across the UK.