The State of Director Disqualifications & Misconduct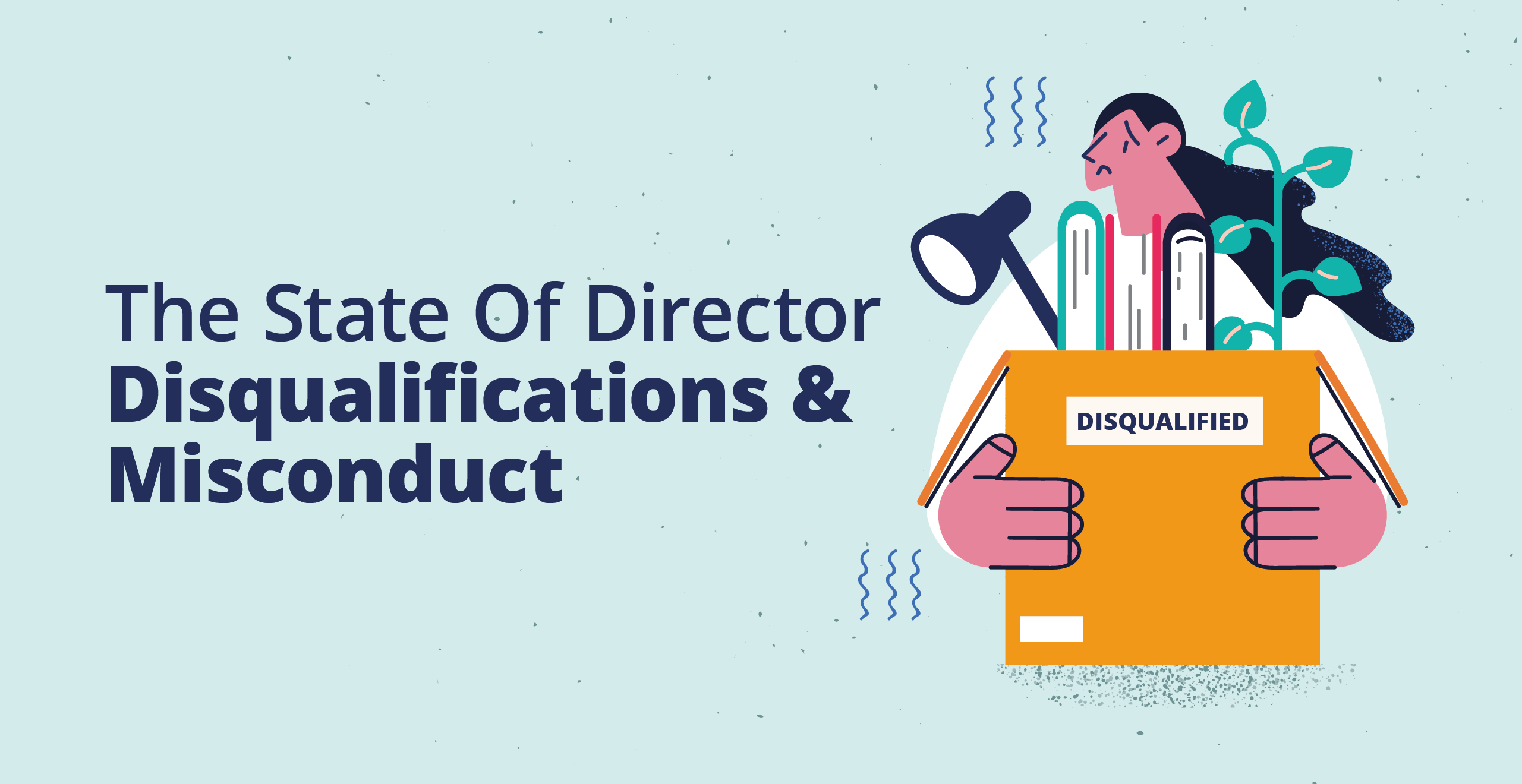 Being disqualified as a director prevents a person from "being concerned with, or taking part in, the promotion, formation or management of a company". Furthermore, a director who has been disqualified simply cannot resign as a director and have a family member or friend take their place, or continue running the company themselves. 
Acting as a director while disqualified is a criminal offence, and may also make the individual concerned personally liable for company debts. 
These are tough limitations to place on an individual, and the details of the disqualifications are made public on the Companies House disqualified directors register - so what leads to director disqualification?
UK's number one for director advice
We handle more corporate insolvency appointments than any other UK firm; demonstrating our commitment to helping directors and business owners in financial distress.
The team are available now -  0800 644 6080
How can a director be disqualified?
If a company is placed into liquidation, a liquidator or administrator will be appointed to investigate the reasons for the failure of the company. As part of this appointment, the merits, actions and decisions of the company's director(s) before the insolvency took place will be investigated as considerations for the company being insolvent. 
Once the insolvency practitioner has completed their report, this will be sent to the Insolvency Service, which is a government agency. If the Insolvency Service believes there is sufficient evidence that the director has caused the company's decline, either through negligence or misconduct, this can result in potential director disqualification proceedings being brought against them under the Company Directors Disqualification Act, 1986 (CDDA).
The Insolvency Service sends a Section 16 letter to the director, informing them of their intention to seek a disqualification order, and the basis on which they're doing so. The Insolvency Service may also seek compensation from the director for the financial loss suffered by the company's creditors.
Are most directors of an insolvent company disqualified? 
It's important to note that in the majority of cases where a business goes into insolvency, directors do not face disqualification proceedings. There is also no real guaranteed criteria that leads to the commencement of directors disqualification by the Insolvency Service and it's looked at on a case by case basis.
Though disqualifications remain rare, the route from investigation to undertakings and orders can be as unique as the business the Insolvency Service investigates. But with this in mind, we wanted to analyse the last ten years worth of disqualification data to find out if disqualifications have increased or decreased, if the average length of disqualification has changed and if there are more misconduct offences occurring than others. 
How many director disqualification orders and undertakings have there been since 2009
Data from the Insolvency Enforcement Service shows that in the past two financial years, 2021/22 and 2020/21, there have been far less director disqualifications than in pre-pandemic years. These fewer disqualifications coincided with historically low numbers of insolvencies during the pandemic. 
This suggests government support for businesses during COVID-19 helped to keep businesses afloat and out of distress. So with fewer insolvency investigations, naturally there'll be fewer disqualifications.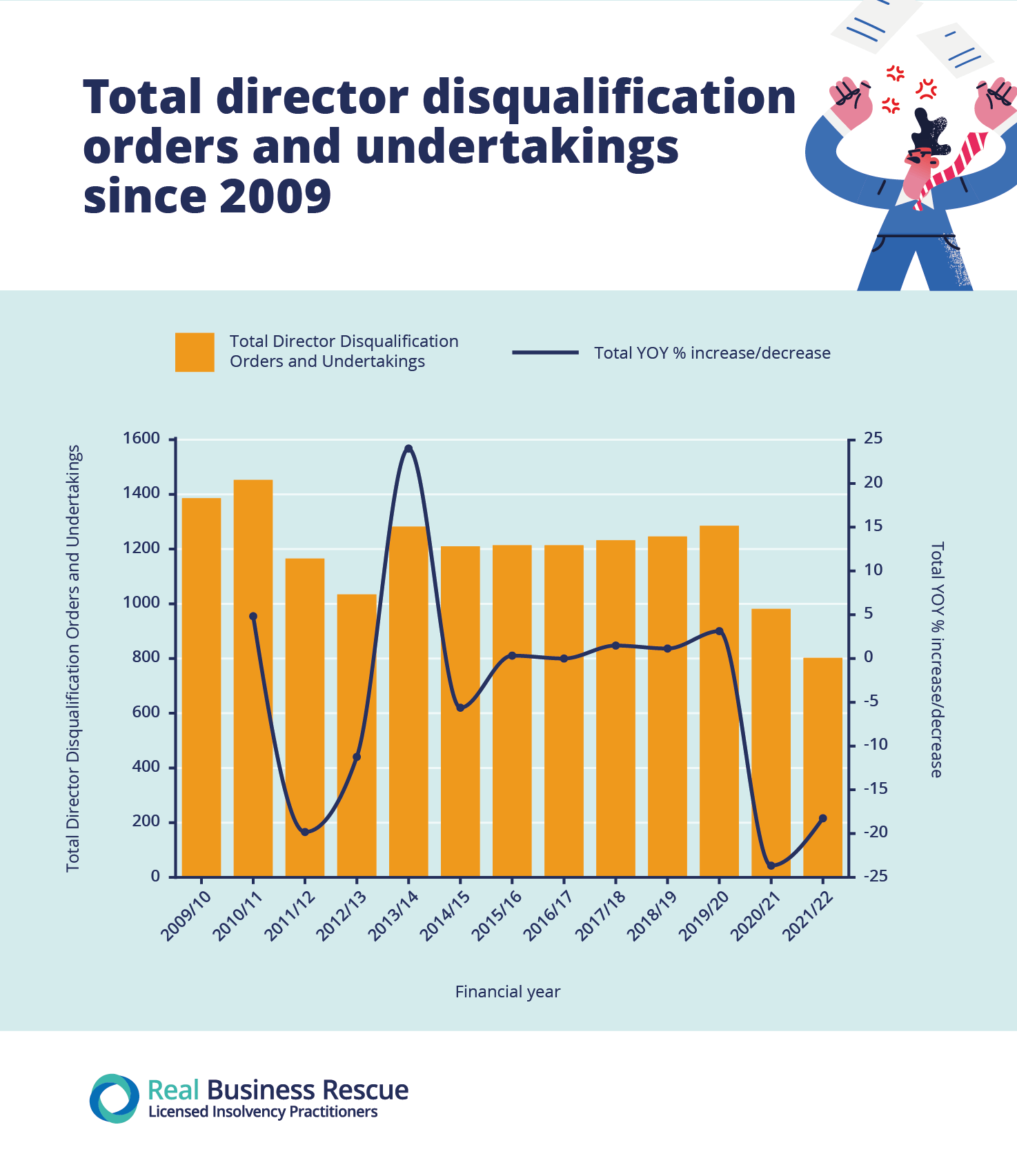 In 2021/22 (up until March 2022), there were a total of 802 disqualification orders and undertakings. This is a 31.16% decrease on the total number of orders and undertakings in 2011/12, where there were a total of 1,165. 
In the years 2011/12 up until 2019/20, the average number of total orders and undertakings was around 1,209. 
Average length of director disqualification orders and undertakings since 2009
The minimum period for which directors can be disqualified is two years, and a maximum disqualification can be up to 15 years. (section 6(4), CDDA 1986). The primary purpose of disqualification is the protection of the public. 
A disqualification period is given as a deterrent and the length reflects the gravity and implications of the offence. In some cases this might also be accompanied by other sanctions, such as a fine or personal liability for business debts. 
Whilst director disqualification orders and undertakings are not part of a criminal investigation, if the terms of the order are breached, the director can receive a fine or be imprisoned for up to two years.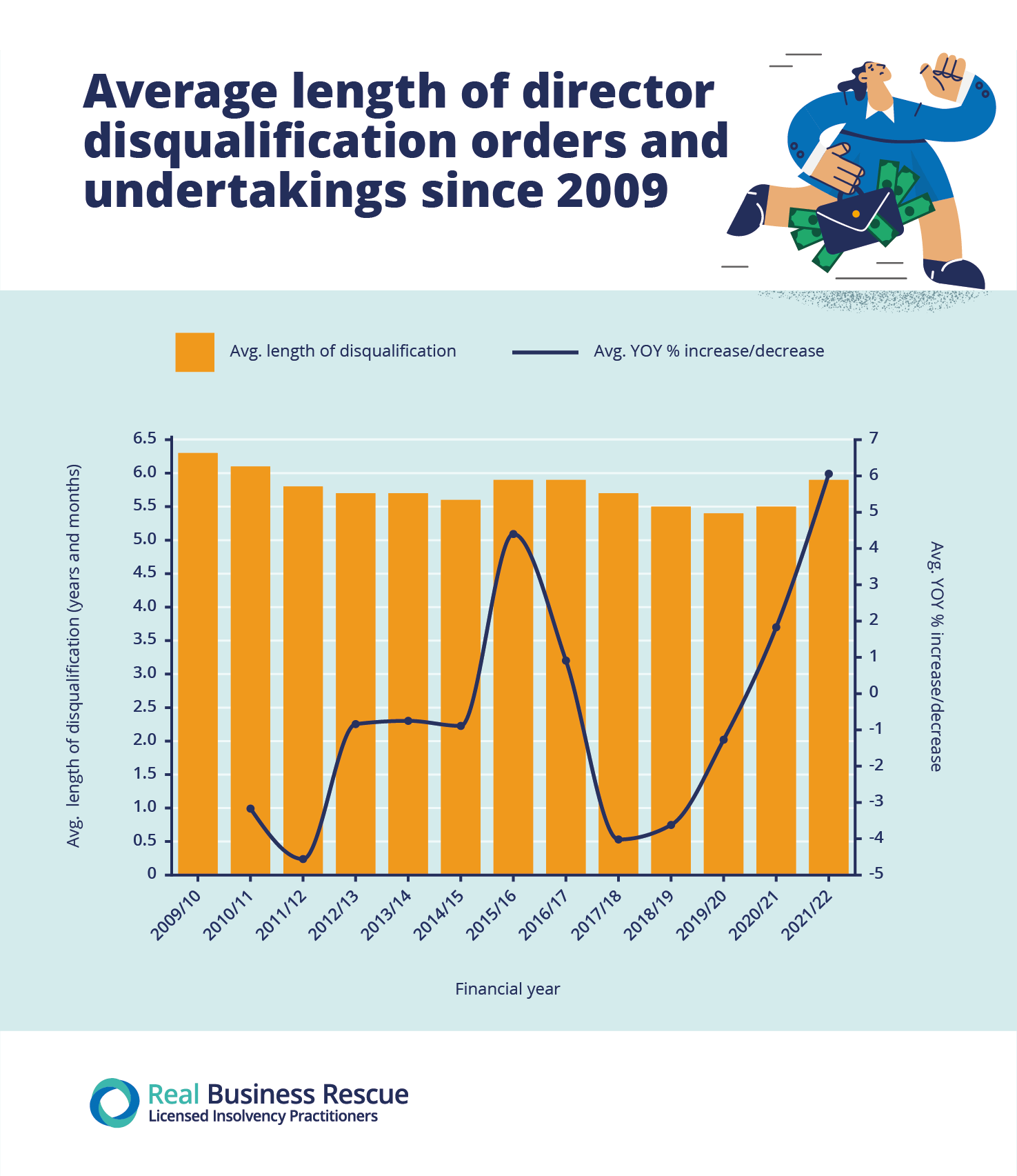 Between the periods of 2011/12 and 2021/22, the mean average length of disqualification was 5 years and 7 months, with the mean average increasing from 5 years and 8 months in 2011/12 to 5 years and 9 months 2021/22. 
Interestingly, in the years 2009/10 and 2010/11, the average length was over 6 years. This suggests that the length of disqualification had been following a downward trend before the pandemic, as misconduct might have been less severe as previous cases. 
Director disqualifications by length band since 2009
The length of time that a director can be disqualified for generally falls into three bands, 2 - 5 years, over 5 - 10 years and over 10 - 15 years. 
Certain offences carry longer disqualifications, particularly more serious offences, but as a guide:
Disqualification for reckless or negligent conduct as a director (2 - 5 years)
Disqualification for serious misconduct which is more detrimental to the public interest (6 - 10 years)
Disqualification for the most severe breaches. For example, fraudulent or serious criminal behaviour (11 - 15 years)
In the period of 2021/22, there were:
359 disqualifications for 2 to 5 years
391 for over 5 and up to 10 years, and;
just 52 for over 10 and up to 15 years. 
Since 2017/18, the number of disqualifications for the maximum term (10 - 15 years) has declined from 96 to 52 in the most recent year. Even though the Insolvency Service acknowledges that figures for the last two years are lower due to the Coronavirus pandemic, the declining trend began before the lockdown period, suggesting that severe breaches are happening less and are less enforced.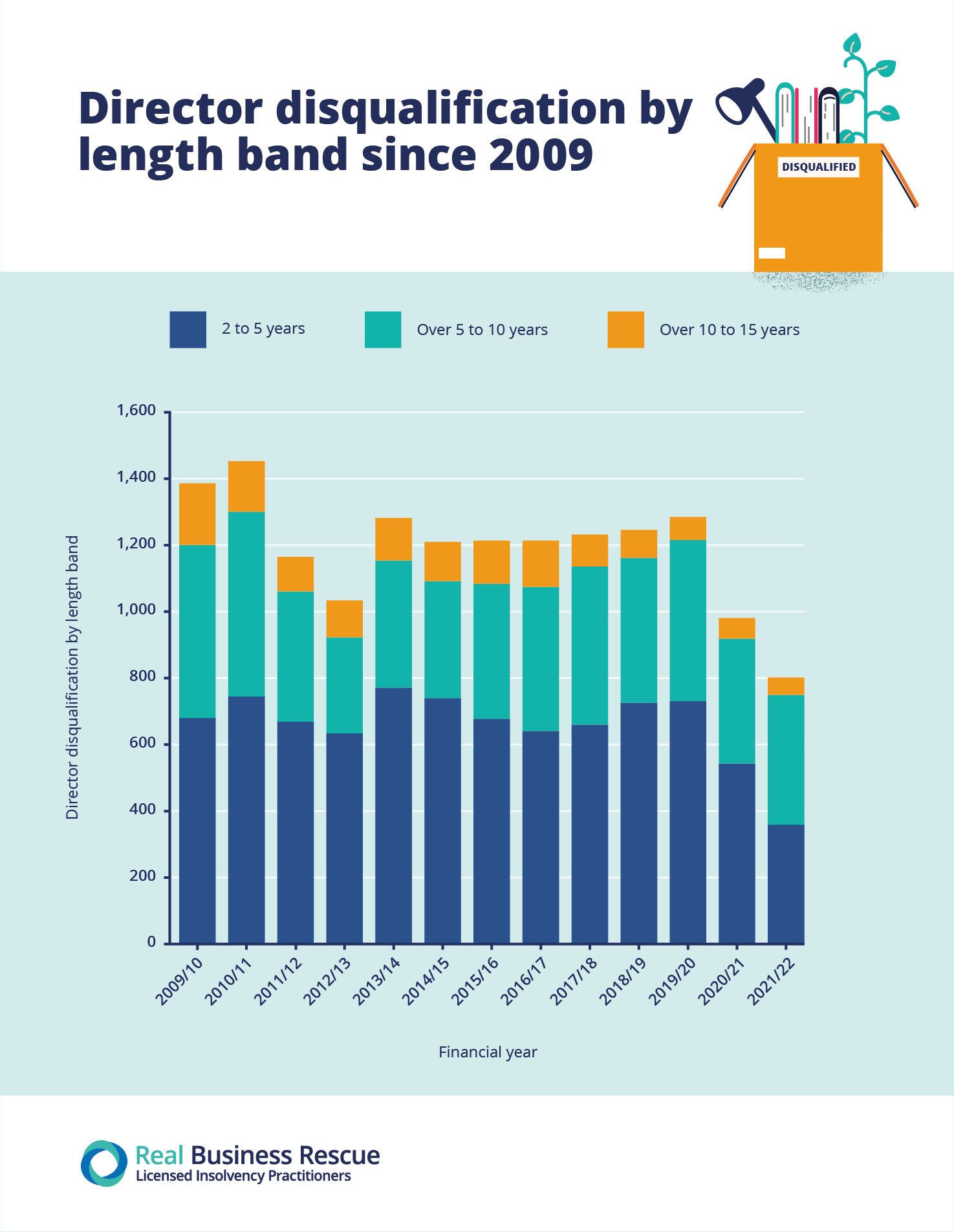 When comparing the 2 - 5 years total disqualifications in 2021/22 versus the previous 10 year period, 2011/12, the total disqualifications for this term have decreased by 46.34%. The maximum term total disqualifications (10 - 15 years) in 2021/22 versus 2011/12 have decreased by 50%. 
However, the middle band, over 5 - 10 years, has decreased by a marginal 0.26% which suggests that serious misconduct orders and undertakings are still being enforced at the same levels proceeding investigations. This means that misconduct that is more detrimental to the public interest is happening at the same rates. 
Director disqualification by allegation types in insolvent disqualifications
Common reasons for director disqualification include company insolvency, personal bankruptcy, misconduct, fraud, and criminal behaviour. However, as director misconduct is investigated as a result of company insolvency, disqualification proceedings can be isolated to particular reasons for failure, which are not the same across all business insolvency cases. 
However, where possible, the Insolvency Service database has classified the total number of disqualifications into allegation types over the last ten years.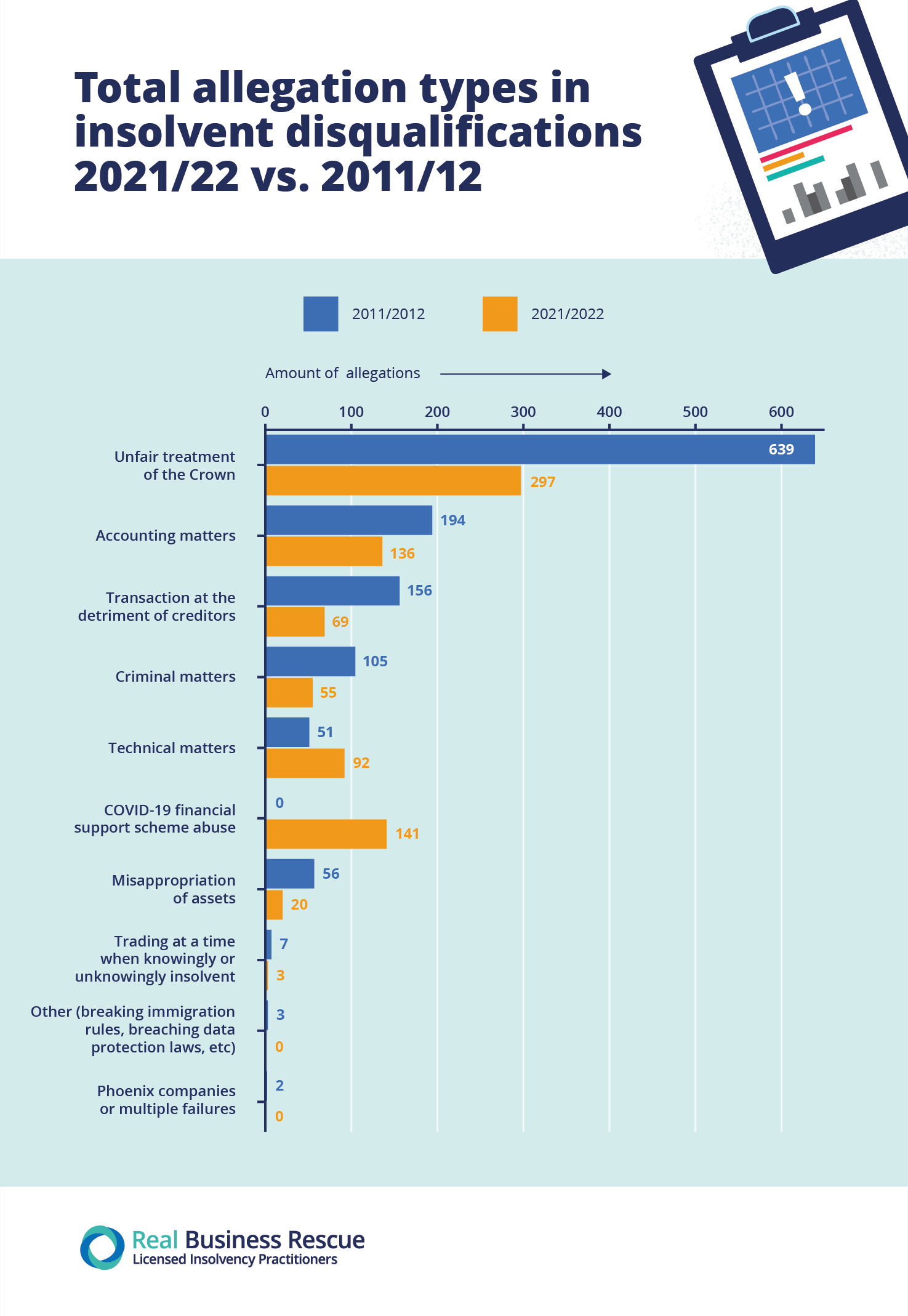 According to the data, in Financial Year 2021/22, the allegation type with the most amount of insolvent disqualifications was 'unfair treatment of the crown', at 297. 
Unfair treatment of the crown (which usually refers to HM Revenue and Customs (HMRC)), was associated with 37% of director disqualifications in 2021/22. Unfair treatment of the crown can range from cases where a director had made a conscious decision to pay other creditors and not HMRC, to cases where a director has defrauded or attempted to defraud HMRC. This has been by far the most common allegation made since comparable records began in 2011/12. The second most common allegation in 2021/22 was in relation to COVID-19 financial support scheme abuse. One important allegation type to note, which has been born out of the COVID-19 pandemic is bounce back loan support scheme abuse, which did not exist ten years ago. There were 141 total insolvent disqualifications in the financial year 2021/22. 
When comparing the total allegations in 2021/22 vs. 2011/12, the allegation type that has increased the most in insolvent disqualifications is for 'technical matters'. This offence encompasses persistent breaches of regulations regarding the duty to file accounts or returns with Companies House, persistent failure to file tax returns and breaches of regulations relating to financial services.
However, for other allegation types, all decreased in 2021/22 compared to 2011/12. 
The average length of disqualification for each allegation and offence type
Whilst the Insolvency Service data provides a thorough analysis and summary of individual disqualification orders and proceedings, the data does not provide the average disqualification period for each misconduct offence type. 
In order to find this out, Real Business Rescue scraped the Insolvency Service's website and analysed for typical offences committed using a broad array of keywords to qualify whether directorial conduct amounted to a specific type of offence. 
For each misconduct entry, the term of disqualification was converted into months (number of years * 12 + number of months). Then, these total number of months were averaged across different offence types and subsequently converted into years and months. Only three months of data is available at one time.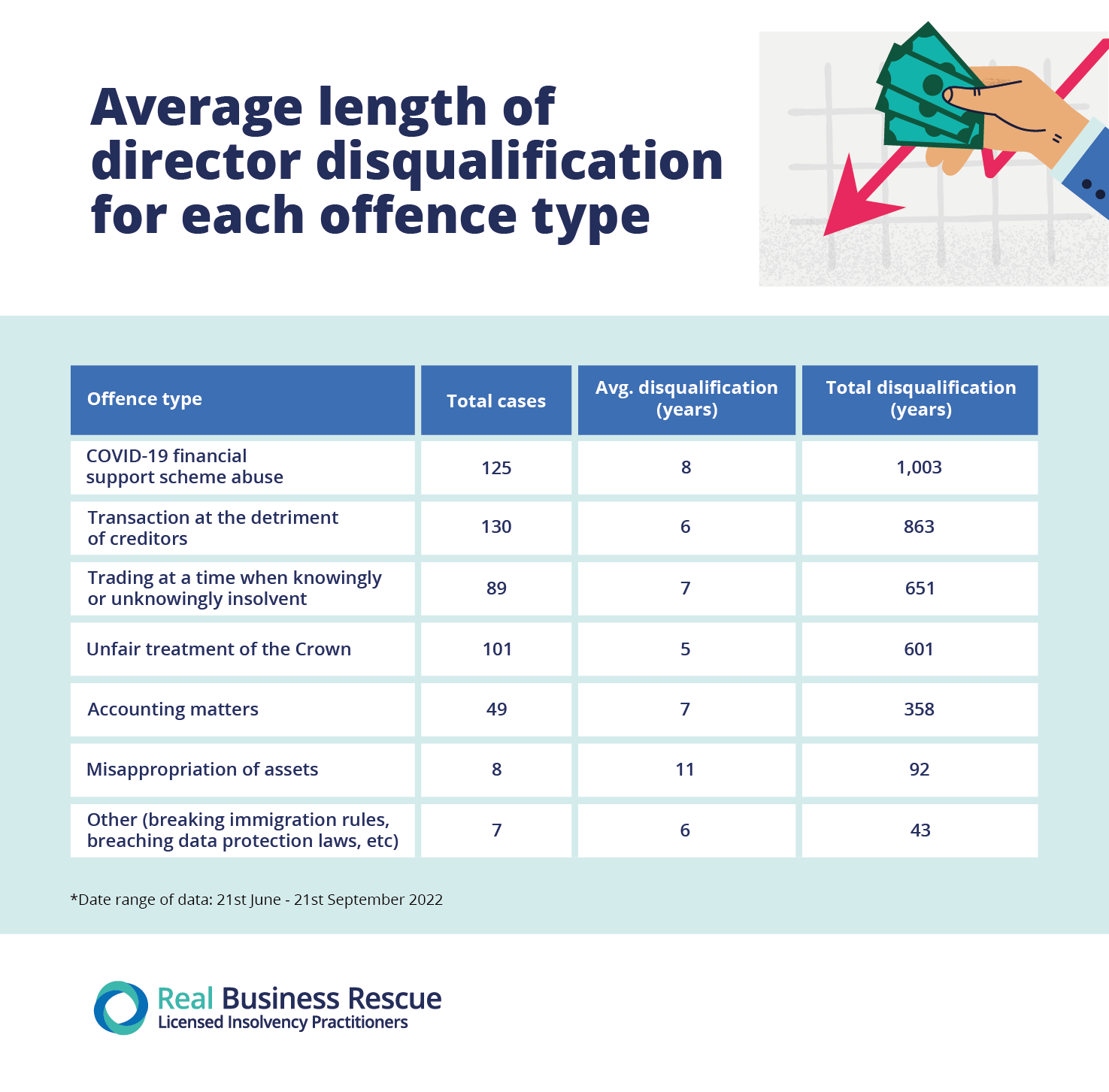 According to our analysis, 'misappropriation of assets' as an offence type carries the longest disqualification period for the most recent publicly shared cases on the Insolvency Service website, at 11 years. This is followed by bounce back loan fraud at 8 years. 
The misconduct with the shortest disqualification period on average involves unfair treatment of the crown. 
From the three months of collected data, the analysis revealed that the individual 125 disqualifications brought for bounce back loan fraud would total 1,003 years of disqualification. 
Learn about how to avoid director disqualification during insolvency
A director runs the risk of disqualification if they fail to fulfil their legal and directorial responsibilities.
As a director, it's important to keep accurate records and minutes of meetings especially if those meetings discussed continuing to trade or not, as during an investigation, you will be asked to justify why you carried on trading if losses continued and the creditors position grew worse.
Creditors' Voluntary Liquidation (CVL) can be initiated by company directors, even though this is not the best outcome for a business, the process does offer some protection for both creditors and directors.
If you're unsure if your business is insolvent, minimising creditor losses is incredibly important. Entering a CVL prevents further financial loss and enables the director to control proceedings to some extent, which cannot be said where compulsory liquidation is concerned.
The liquidator's investigation still takes place following voluntary liquidation, but as the director has already demonstrated commitment to helping creditors, it's less likely to lead to heavy sanctions.
It's always sensible to take professional advice early on as a protective measure.
---
Sources
1. https://www.thegazette.co.uk/all-notices/content/225 
2. https://www.summitlawllp.co.uk/for-business/director-disqualification-solicitors/director-disqualification-time-limit
Methodology
Director disqualification orders, undertakings, mean length of disqualifications and total allegation types were available on an annual basis from the government website. Real Business Rescue analysed the data and calculated the increase or decrease in totals across disqualifications in 2021/22 vs 2011/12. 
Director disqualifications were scraped from the Insolvency Service's website, and analysed for typical offences committed using a broad array of keywords to qualify whether directorial conduct amounted to a specific type of offence. Offence types included: Bounce back loans (BBL), Misappropriation of Assets, Unfair treatment of the Crown, Transaction at the detriment of creditors, Trading at a time when knowingly or unknowingly insolvent, and Accounting matters.
For each misconduct entry, the term of disqualification was converted into months (number of years * 12 + number of months). Then, these total number of months were averaged across different offence types and subsequently converted into years and months.
Only three months of director disqualification outcomes are available at any time on the Insolvency Service page. Data was collected on 21st September 2022 and included details of director misconduct for the three months preceding this date.
Data
You can find a full data set here. 
Free 60 Second Test
For Ltd Company Directors
Get An Instant Understanding Of Your:
Debt and Asset Position
Director and Liability Review
Next Steps
Plus much more ...
Real Business Rescue Recommended
Next Steps
We provide free confidential advice with absolutely no obligation.
Our expert and non-judgemental team are ready to assist directors and stakeholders today.
60 Second Test
---
Understand your company's position and learn more about the options available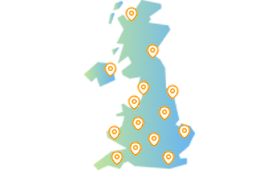 Office Locator
---
Find your nearest office - we have more than 100 across the UK. Remote Video Meetings are also available.
Contact Us Today
---
Free, confidential, and trusted advice for company directors across the UK.