Do workers want to return to the office to support our high streets?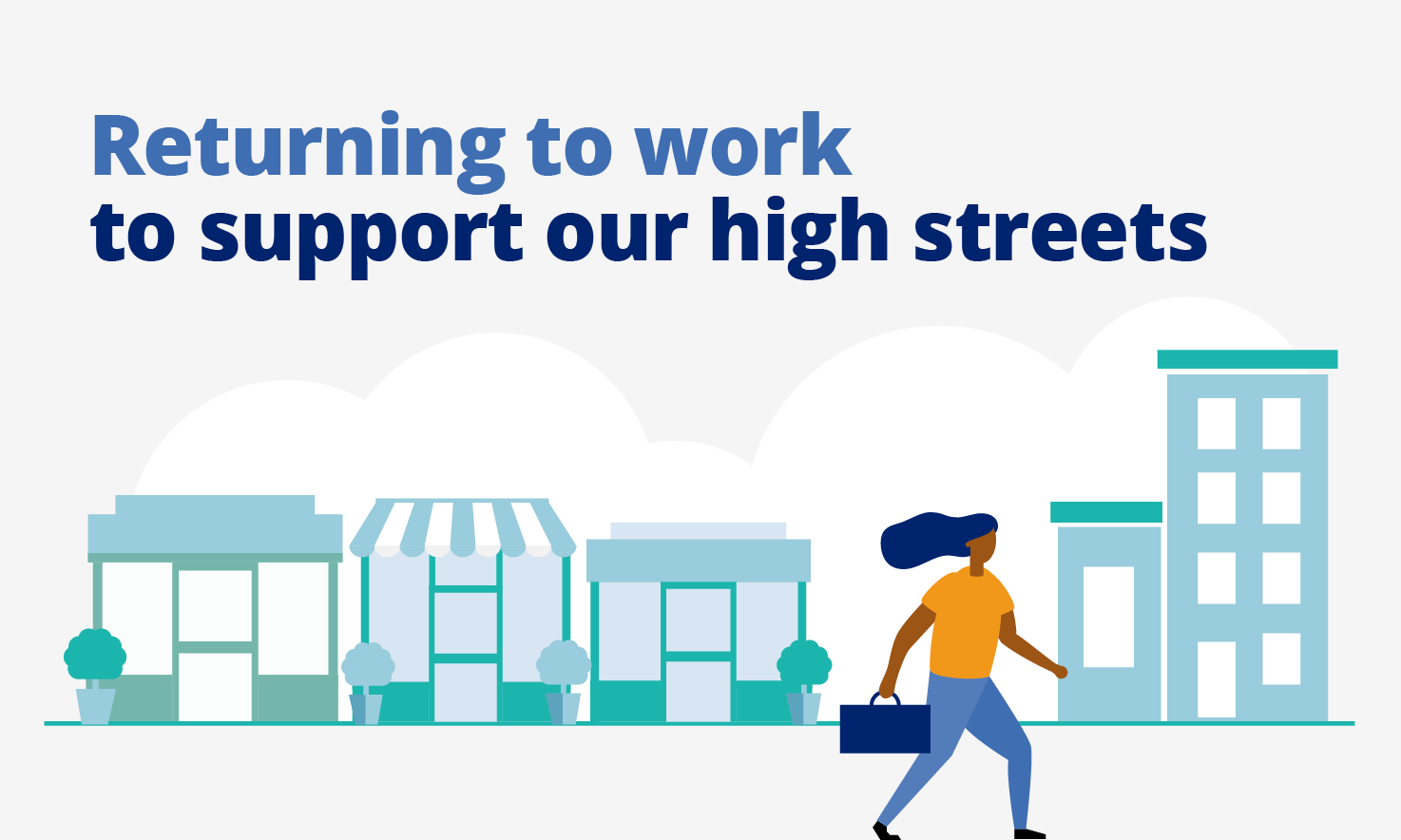 Lockdowns and homeworking over the past two years has created a deep crisis for our high streets. It is estimated that during 2020, the height of the lockdowns, high streets across Britain collectively lost 10 million people in footfall. 

However, even with restrictions being lifted, high street businesses continue to lose out on footfall while office workers take advantage of flexible working and working from home. Recent polls have suggested that nearly half of UK professionals want to continue working from home in the future, which means that the high street might not ever reach pre-pandemic footfall levels again.  

However, it might not be all doom and gloom for the high street and local businesses. Real Business Rescue's recent survey of 1,000 UK workers has shown that professionals are keen to get back to their place of work to support local businesses and reveals what they'll be doing to support their high street. 
How many workers want to get back to their workplace?
According to our survey, 89% of workers see a return to the office as an opportunity to support the high street and local business. 78% of workers are planning to shop more independently than before the pandemic to support small businesses.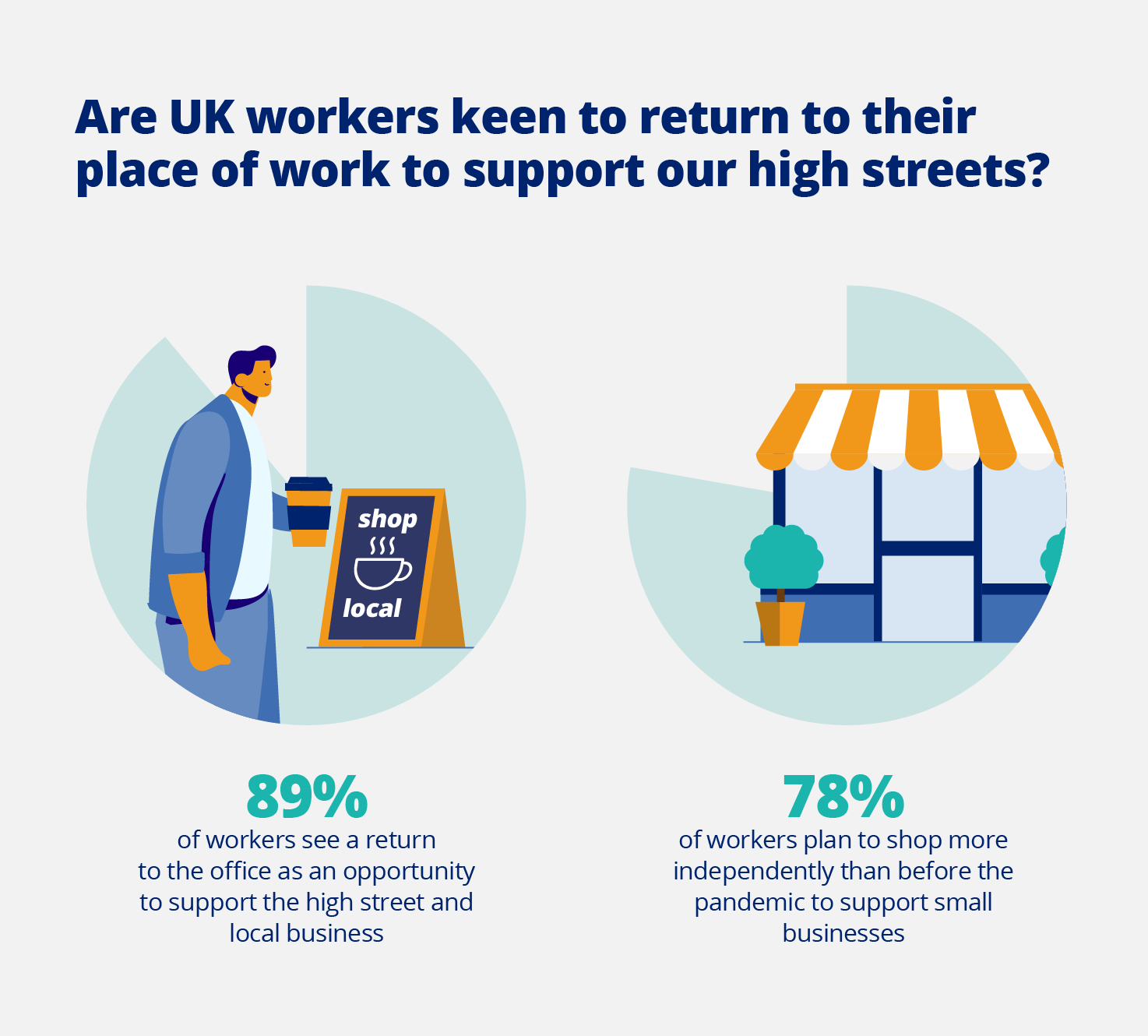 This suggests that an overwhelming majority of UK workers view returning to their place of work as a positive way to support local businesses and put some money back into the high street. 

This will be welcome news for some towns and city's high streets that rely on weekend spend. Research shows that, on average across the UK, weekend spending is now above its pre-Covid level, but weekday spending is 30 per cent lower. 
How many days a week do workers plan to go into work to help support local and high street businesses?
Our survey asked workers on average how many times a week do they plan to go into their workplace to support local and high street businesses. 
Just over a quarter, 29%, said they planned to go in the full five days a week. The second highest response was two days a week with 21% selecting this. This means that workers on average plan to go in 2.8 days a week.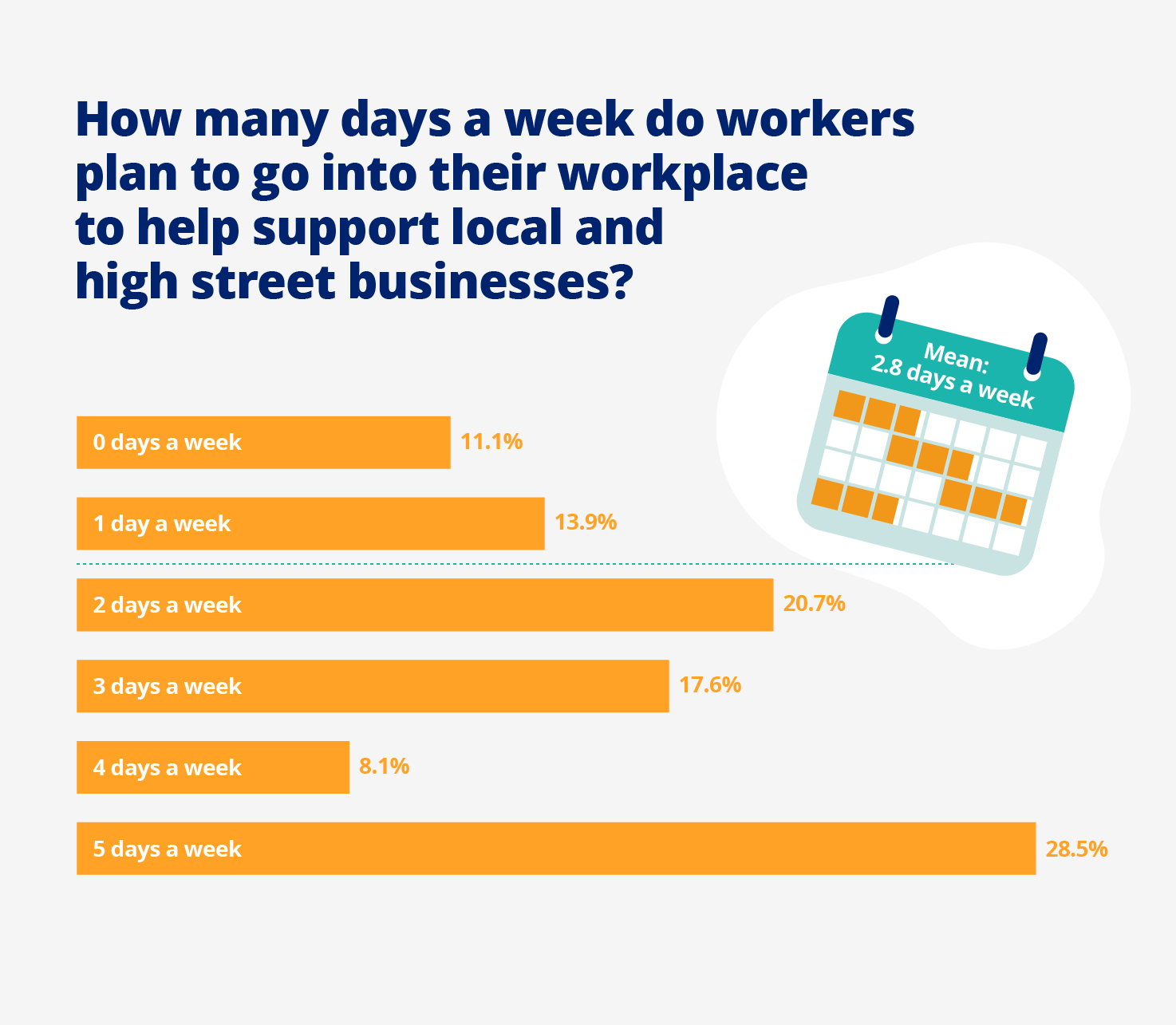 How are workers planning to support the high street more?
With a large majority of workers saying they will be going into their place of work a lot more now restrictions have lifted, we asked survey respondents how exactly they plan to support their high street.
The majority of respondents selected "Shop locally instead of travelling to shops in different areas" (44%), which suggests they'll be spending more within their work place's locality. 
The second highest method selected to support local businesses is to "​​Shop locally during my lunch break" (41%). The third highest way that workers plan to support local businesses is to "order takeaway food, drinks and produce from local businesses when I work from home". 
So this means that not only are workers planning to support businesses in close proximity to their place of work, but when they are working from home, they'll be making a trip to their locality to support high street shops close to their home too.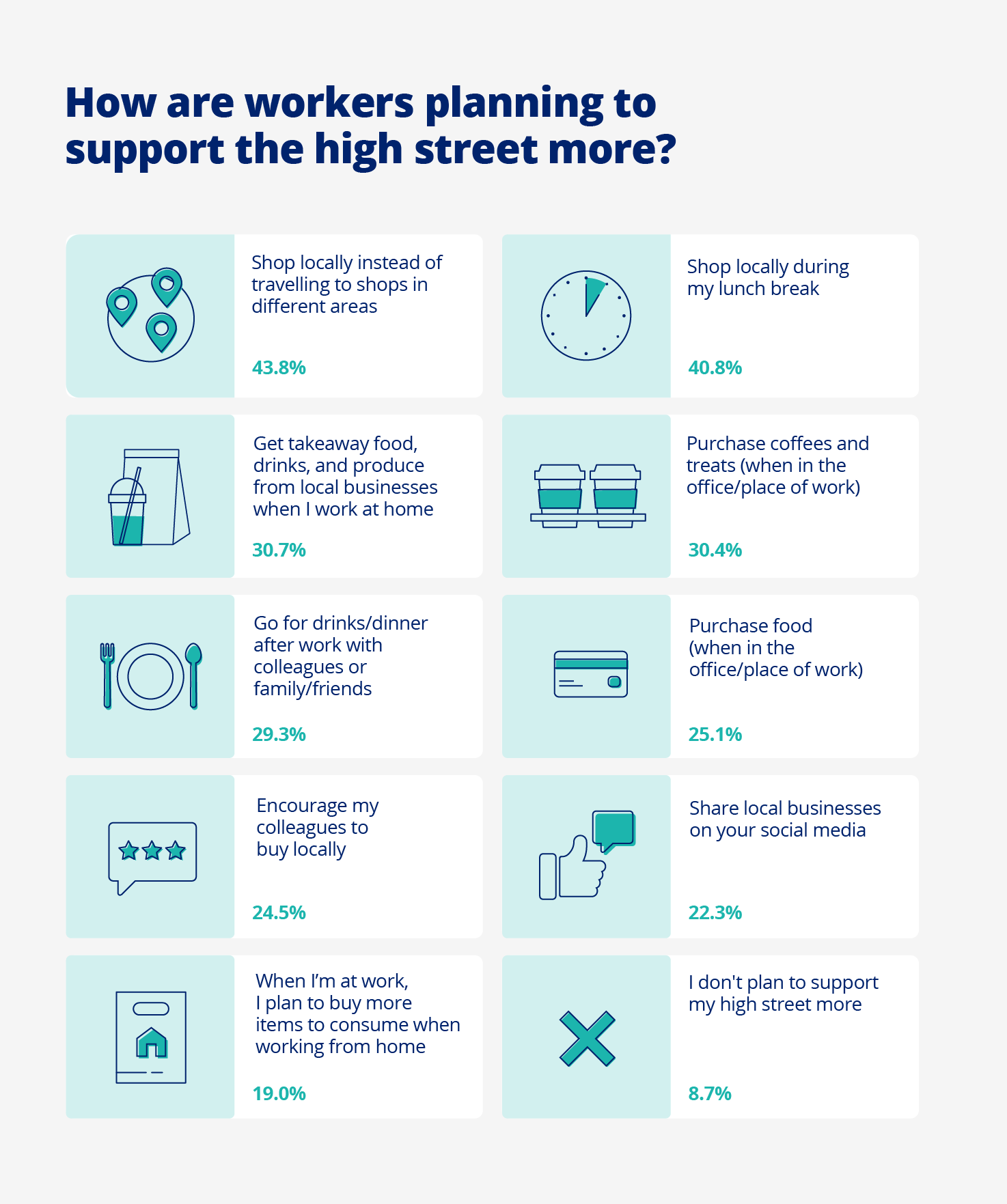 How often are workers planning to buy lunch from a local business?
Our survey also asked workers who plan to go into the office how often they plan to purchase lunch from a local business. Over a quarter of respondents (26.6%), said they plan to purchase 3 days a week. This is more than half of the working week and would help to put more back into the high streets and local businesses who did well from workers' lunchtime trade.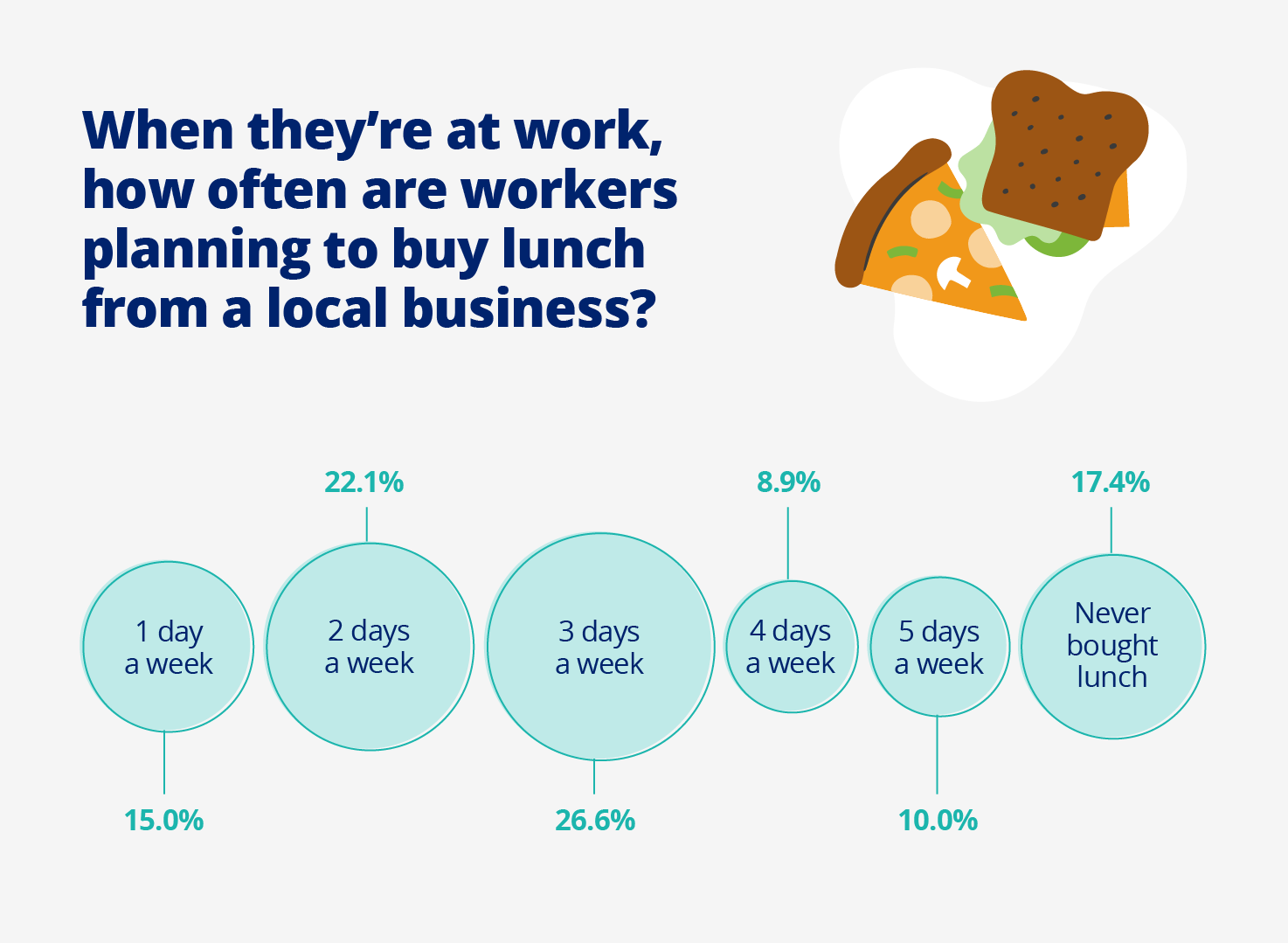 When at work, how much do professionals spend on purchasing lunch each day?
With large high street food chains such as Greggs saying they had been hit hard by the lack of lunchtime trade due to the lockdowns, it will come as no surprise that smaller, independent businesses also felt the repercussions of limited footfall at midday.
With our survey suggesting that UK professionals are keen to get back to the workplace and help out local businesses by purchasing food and drink at lunchtime, we wanted to use the data to estimate how much one worker's lunchtime spend could be putting back into the high street on a weekly, monthly and annual basis. 
The survey respondents mean spend on lunch each day is £6.93, so if workers plan to go into the office 2.8 times a week on average and purchase lunch, this could equate to a weekly spend of £15.59, a monthly revenue of £62.37 and an annual revenue of £748.44 - just from buying lunch almost three times a week!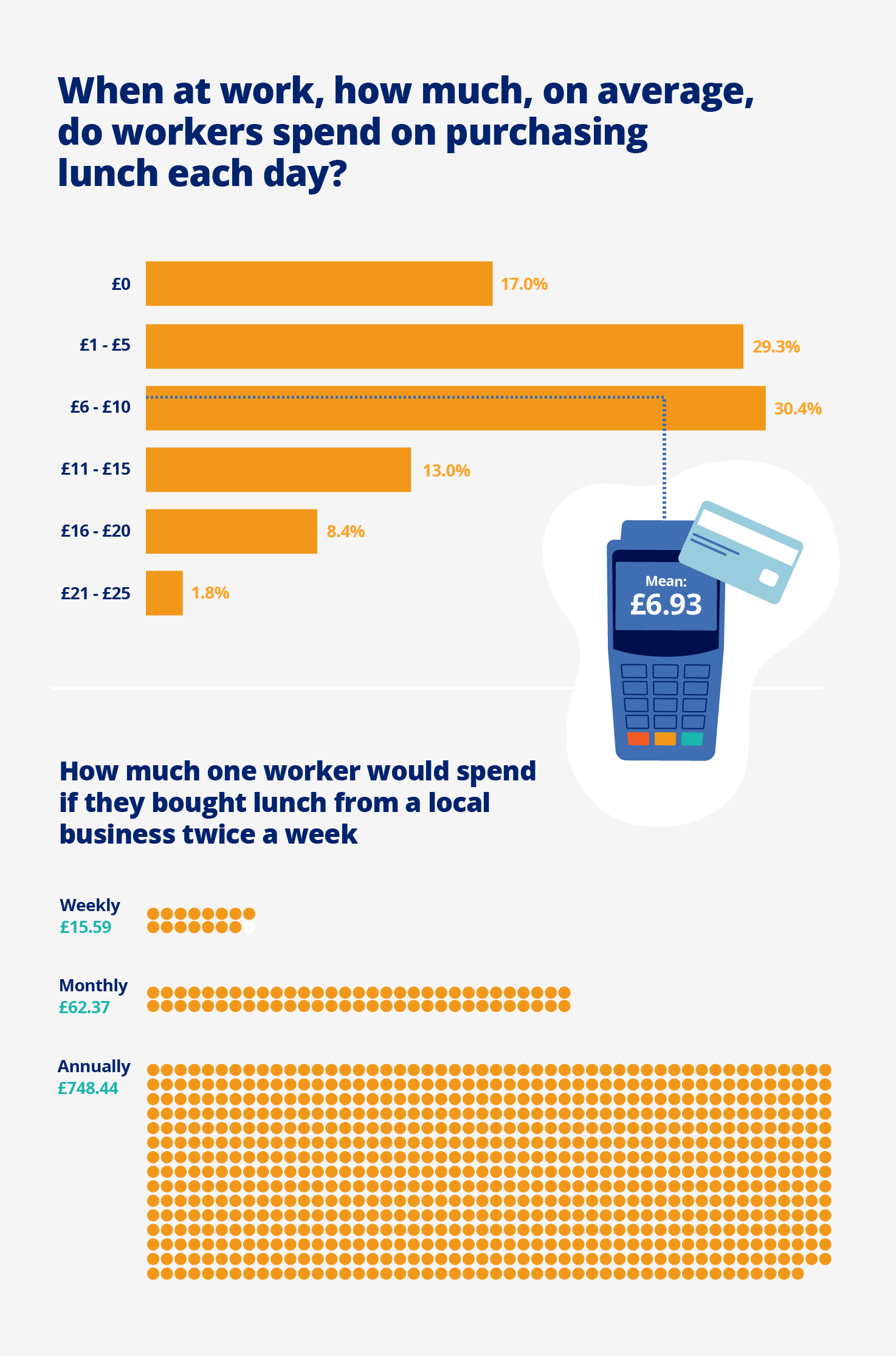 Excluding lunch, how much do workers spend in shops local to their workplace per week?
Alongside buying lunch, we also wanted to find out how much workers will spend in shops local to their workplace, especially because this is a key way that UK professionals plan to help out their high street stores.
On average, survey respondents said they spend £19.97 a week in local shops. This equates to £79.89 being spent monthly and £958.71 annually in local, high street shops just from one person.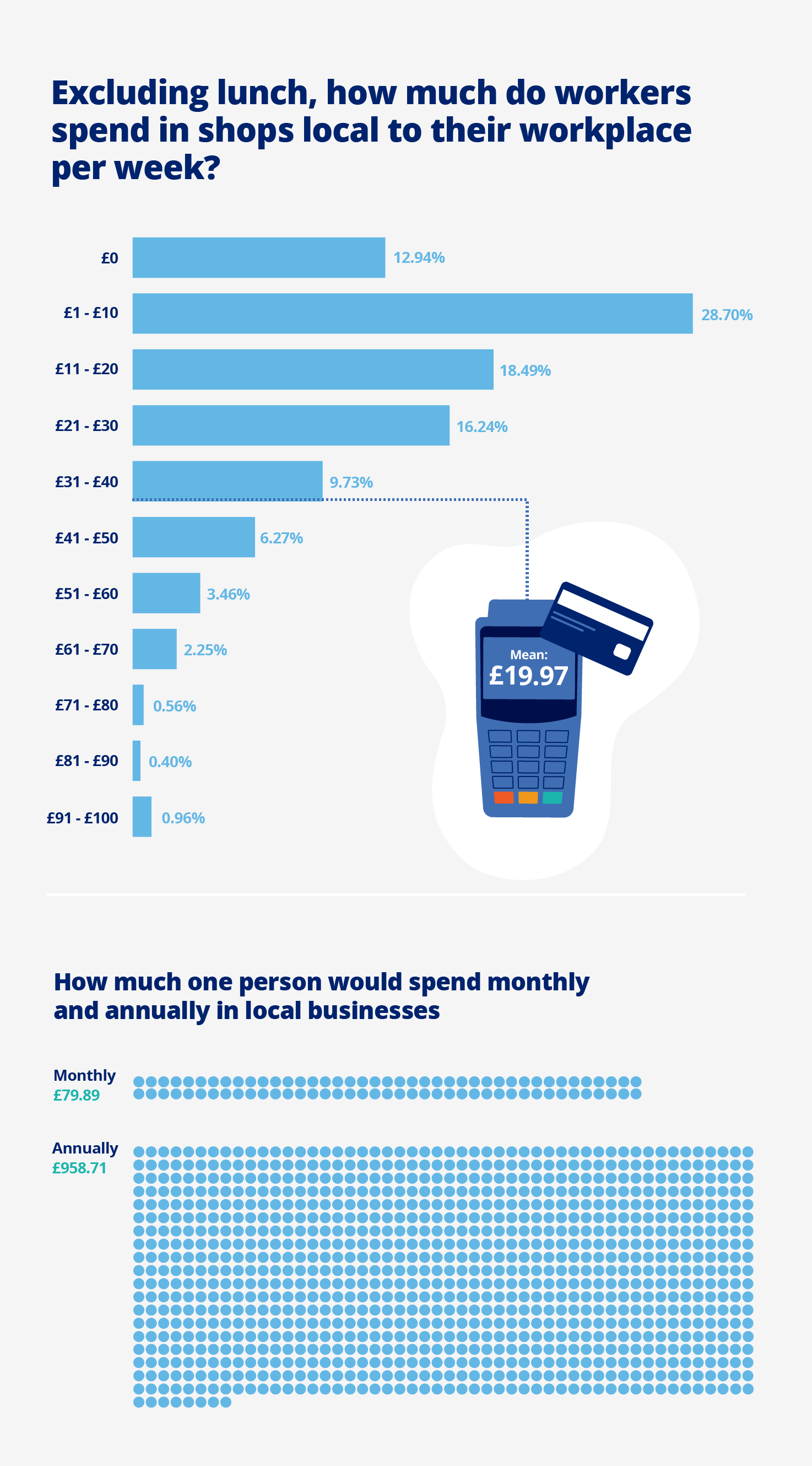 With restrictions lifted and workers heading back to their offices, this suggests that footfall should be increasing on UK high streets. Our survey has also revealed that professionals want to support local businesses more following the pandemic. 
However, even though this might paint a positive picture for high street businesses, some SMEs are still finding themselves in distress trying to ride the wave of the impact of COVID-19. There are other elements at play such as rising inflation and material and labour availability to the payback of COVID-19 loans. 
Survey methodology
Real Business Rescue surveyed 1,000 UK workers about their plans to return to the office, how many days they will go into their place of work, how often and how much they will purchase lunch and other goods from local and high street businesses
About Real Business Rescue and how we can help
Real Business Rescue is part of Begbies Traynor Group. We are the UK's leading business recovery practice with regard to total corporate and business insolvency appointments.
We specialise in helping company directors, sole traders, and individuals overcome a range of financial concerns.
Throughout 2021, Begbies Traynor and Real Business Rescue handled more than 1,500 new cases, including liquidations and company administrations, the most common types of formal insolvency procedure within the UK.
We offer comprehensive director support through our nationwide office network with representation in Scotland, Wales, Northern Ireland and throughout England. We will take the time to listen to your problem, understand the reasons behind it, and work with you to come to an appropriate solution.
Call us now to arrange a free no-obligation consultation at any of our offices, your place of work, or an alternative location to suit you.
Free download
Free Insolvency Report
Claim Your Free Business Review
All UK sectors are experiencing specific challenges at present, particularly in light of the Covid-19 pandemic. Find out how your sector is performing here.
Simply search your Limited Company Name or Company Number
Please select your company from the list below:
We will also check if you're eligible for Director Redundancy
Next Steps
We provide free confidential advice with absolutely no obligation.
Our expert and non-judgemental team are ready to assist directors and stakeholders today.
Free Business Review
---
Claim your Free Business Review to understand what options are available to you.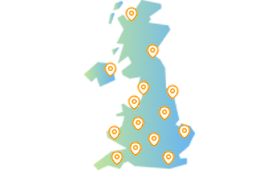 Office Locator
---
Find your nearest office - we have more than 100 across the UK. Remote Video Meetings are also available.
Contact Us Today
---
Free, confidential, and trusted advice for company directors across the UK.