The Business Distress Index Q4 2022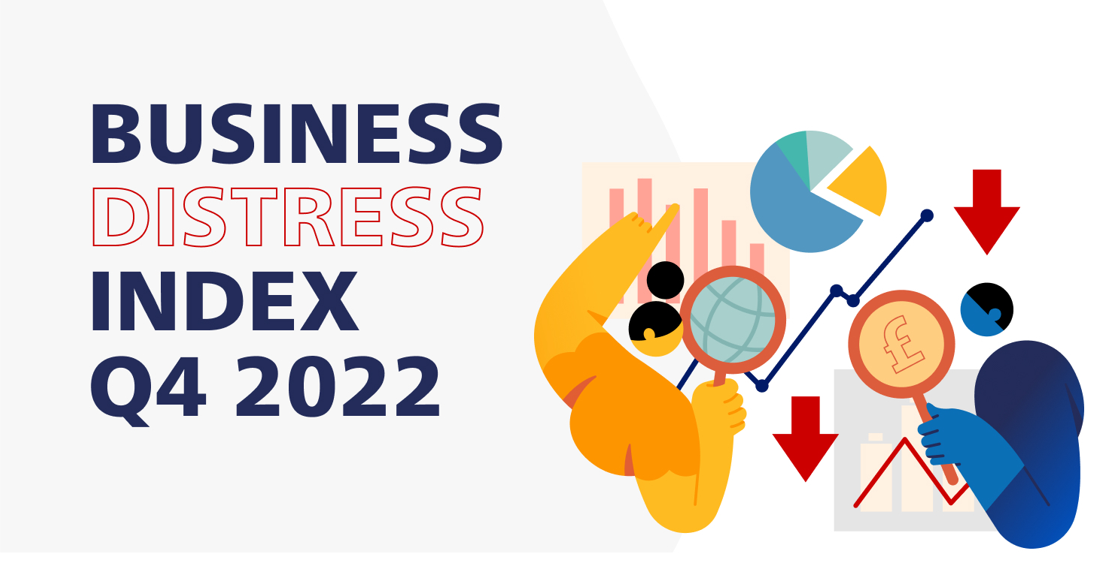 The latest Business Distress Index statistics show that small to medium-sized enterprises (SMEs) across the UK are facing unprecedented levels of distress as the country grapples with a post-Covid cost-of-living crisis.
From analysing new data looking at how businesses fared during the most recent quarter (Q4 2022 October to December), the findings illustrate just how challenging the current economic climate is for UK businesses.
How many SMEs are in distress?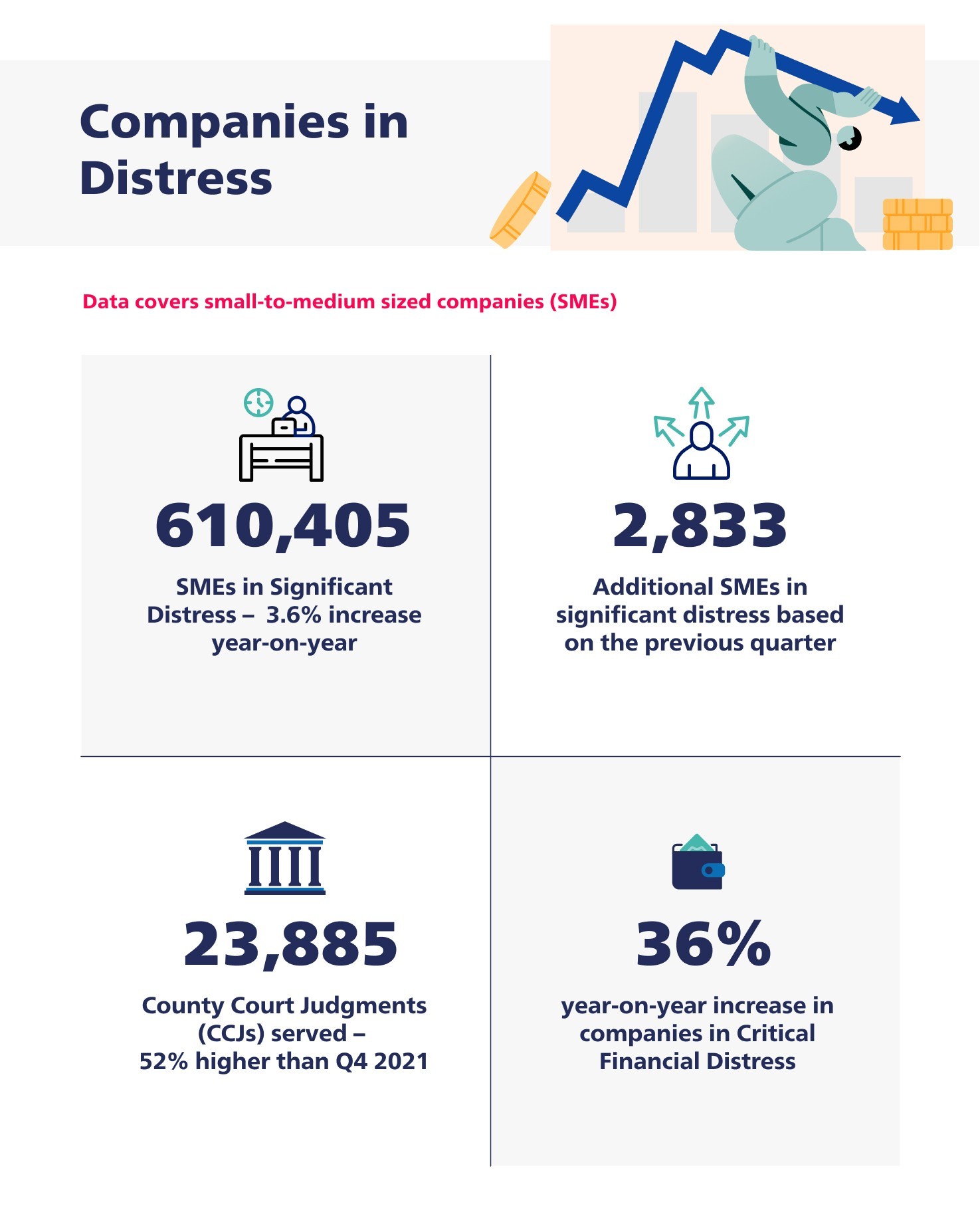 The total number of SMEs in significant distress in Q4 2022 is 610,405 – this is a 3.6% increase on the same period in the previous year (Q4 2021) and a 0.5% increase on the previous quarter (Q3 2022).
These figures support the rising levels of insolvency cases – namely liquidations, administrations and restructuring processes such as company voluntary arrangements.
There were 5,995 registered company insolvencies in Q4 2022, comprising 4,891 creditors' voluntary liquidations (CVLs), 720 compulsory liquidations, 359 administrations and 25 company voluntary arrangements (CVAs). By way of comparison, the number of company insolvencies in Q4 2022 was 7% higher than in Q3 2022 and 30% higher than in Q4 2021.
Take Our Free 60 Second Test
Get an instant understanding of your:
Debt and Asset Position
Formal Insolvency Options
Next steps
Plus much more ...
Start The 60 Second Test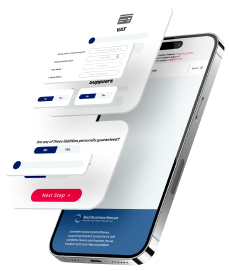 "These figures represent the perfect storm of a cost-of-living crisis at a time when businesses are still firefighting in a post-pandemic world," comments Shaun Barton, National Online Business Operations Director at Real Business Rescue.
"A lot of businesses will have battled through the pandemic only to feel like they've jumped out of the chip pan and into the fire.
"The significant distress figures are the highest on record largely due to the pressures businesses have faced in the last three years, but rather than seeing these pressures ease, we're seeing increased creditor action - through the serving of winding-up petitions and issuing of CCJs – after initially showing patience during peak Covid times.  This is the key reason why we're seeing the subsequent rise in corporate insolvencies."
Analysing business distress figures for UK sectors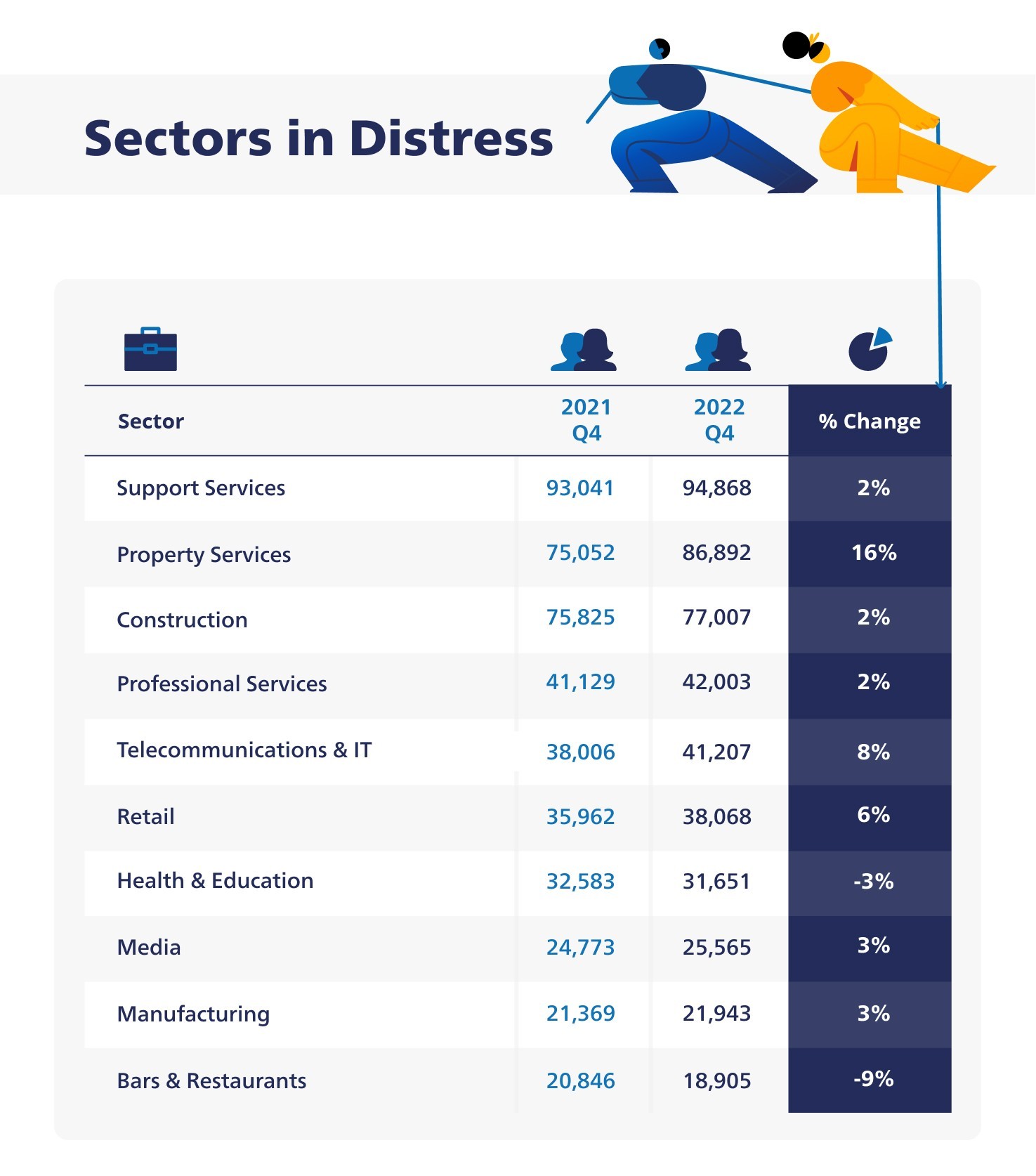 Most sectors have seen year-on-year increases in business distress. The ten most distressed sectors include Support Services - covering jobs relating to the renting and leasing of goods, vehicles and equipment (94,868 – a rise of 2%), Construction (77,007 – a rise of 2%) and Retail (38,068 – a rise of 6%). The sector facing the sharpest rise in distress is Property Services (86,892) with a 16% increase over the last 12 months, with mounting interest rates likely playing a part. There was some positive news for the Bars & Restaurants sector with 1,941 fewer businesses in distress; a 9% decrease year-on-year.
UK Regional Business distress figures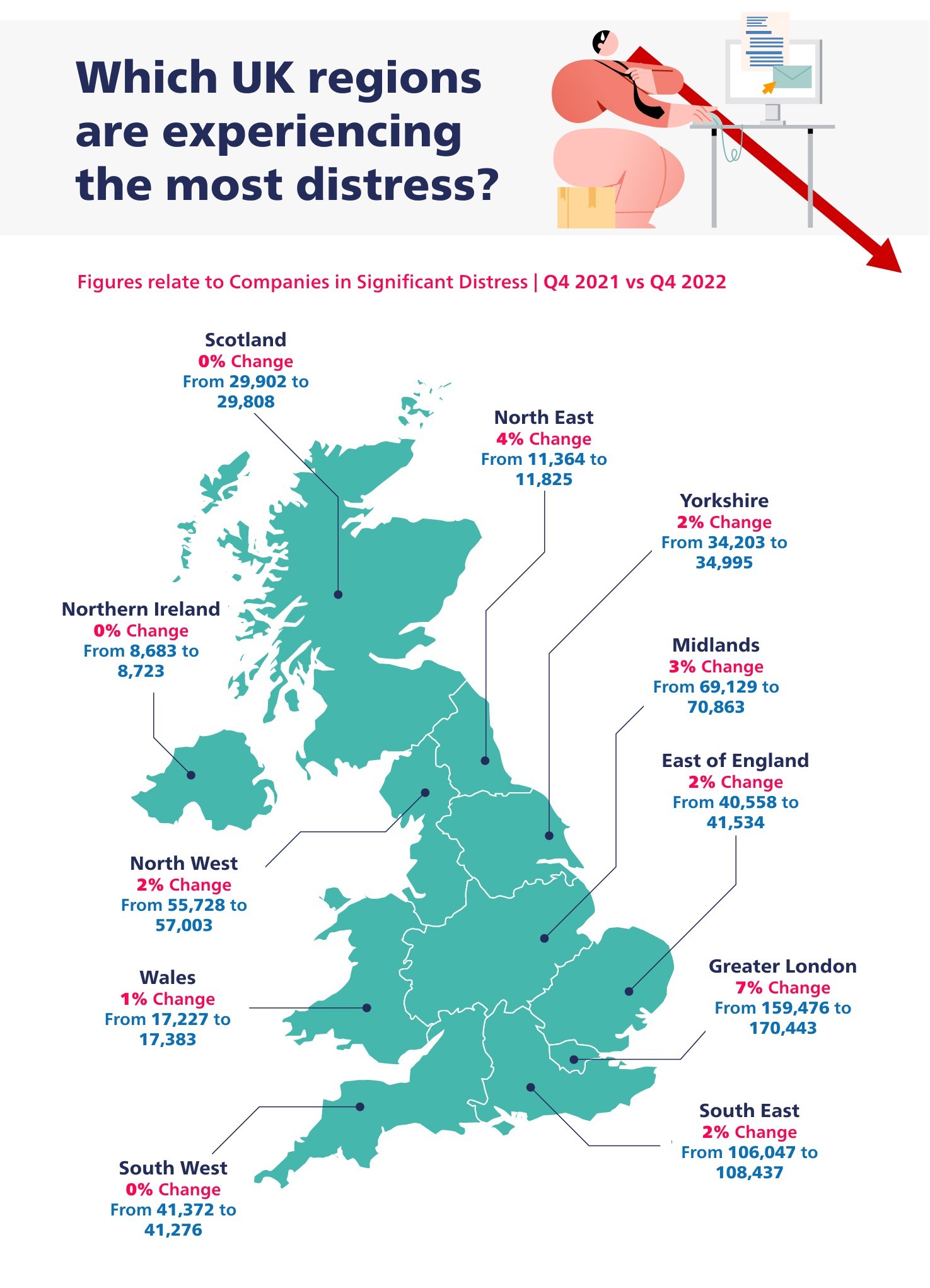 From a regional perspective, significant distress figures increased across the board with the exception of two regions – Scotland and the South West – which had very small decreases.
London felt the sharpest rise in distress with a 7% increase – a jump from 159,476 to 170,443 businesses across the capital in distress.
Q4 2022 Comparison with Post-Covid Figures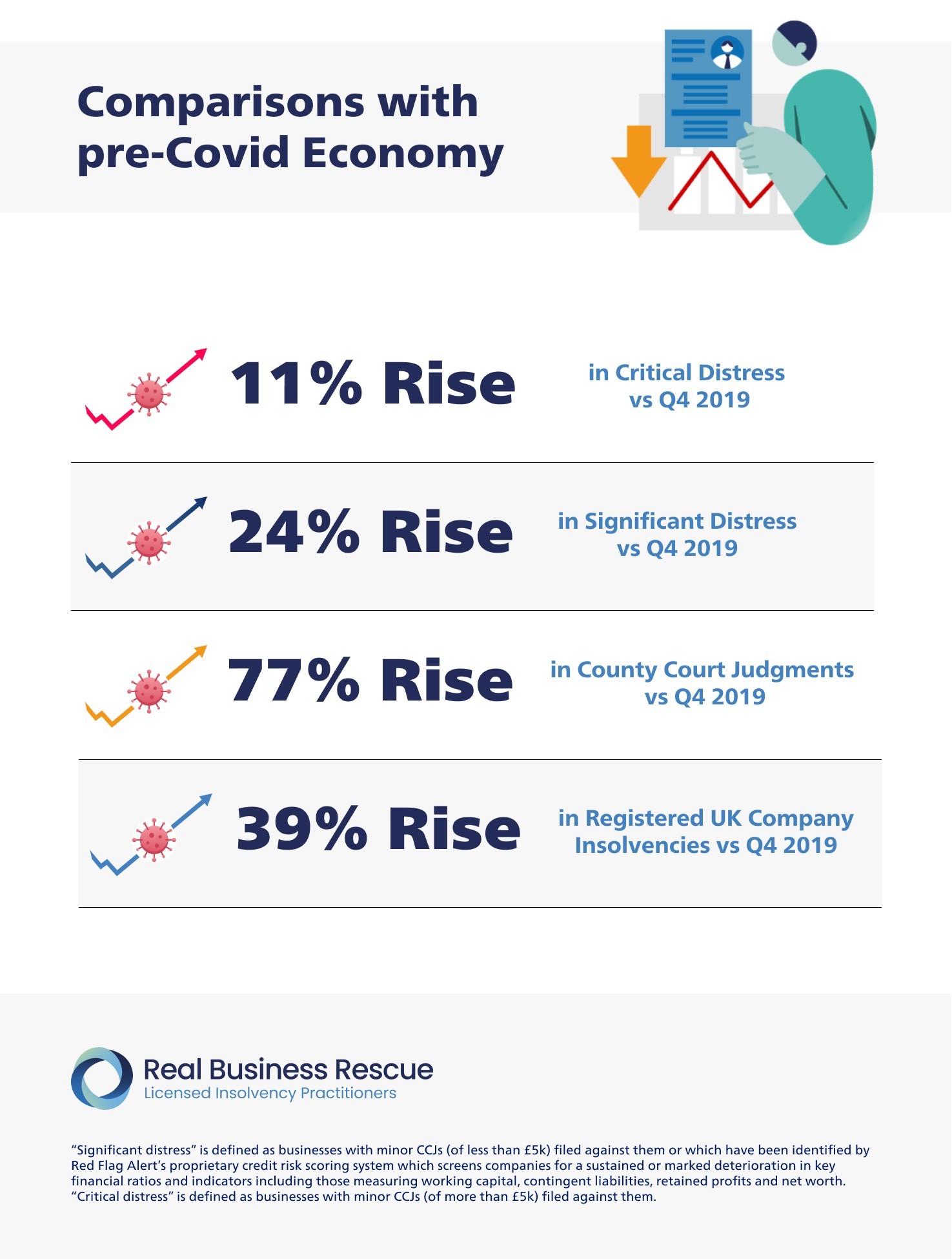 Comparing this recent quarter's figures with the same period in 2019 – i.e. the quarter before Covid-19 hit the UK and therefore unaffected by pandemic-related effects – we can see that the economy is in a far more perilous position with an 11% rise in critical distress, a 24% rise in significant distress, a 77% rise in CCJs being served, and a 39% rise in registered insolvencies such as liquidation and administration.
"The current economic situation is chalk and cheese compared to 2019," says Shaun Barton, National Online Business Operations Director at Real Business Rescue.
"We might not be talking about Covid-19 on a day-to-day basis anymore but it continues to impact businesses across the UK – many of which have been 'in the red' since the very first lockdown. The hope was that struggling firms could ultimately trade their way out of trouble but they've faced obstacles at every step of the way including rising interest rates, rising inflation, surging gas and electric prices, bounce back loan repayment costs, increased costs of raw materials, a shortage of skills and talent, and in many cases rising commercial rent costs too.
"It really is belt and braces time, and we would encourage company directors to be aware of early warning signs, such as reduced cash flow or falling into tax arrears, and to always take early advice wherever possible."
UK's number one for director advice
We handle more corporate insolvency appointments than any other UK firm; demonstrating our commitment to helping directors and business owners in financial distress.
The team are available now -  0800 644 6080
Need to speak to someone?
If your company is struggling with unmanageable debts, squeezed cash flow, or an uncertain future, you are far from alone. We speak to company directors just like you every single day, and we are here to give you the help and advice you need.
Call our team today on 0808 253 3818
Free 60 Second Test
For Ltd Company Directors
Get An Instant Understanding Of Your:
Debt and Asset Position
Director and Liability Review
Next Steps
Plus much more ...
Real Business Rescue Recommended
Next Steps
We provide free confidential advice with absolutely no obligation.
Our expert and non-judgemental team are ready to assist directors and stakeholders today.
60 Second Test
---
Understand your company's position and learn more about the options available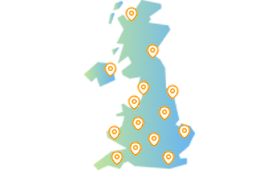 Office Locator
---
Find your nearest office - we have more than 100 across the UK. Remote Video Meetings are also available.
Contact Us Today
---
Free, confidential, and trusted advice for company directors across the UK.