UK towns and cities with the highest retail rental prices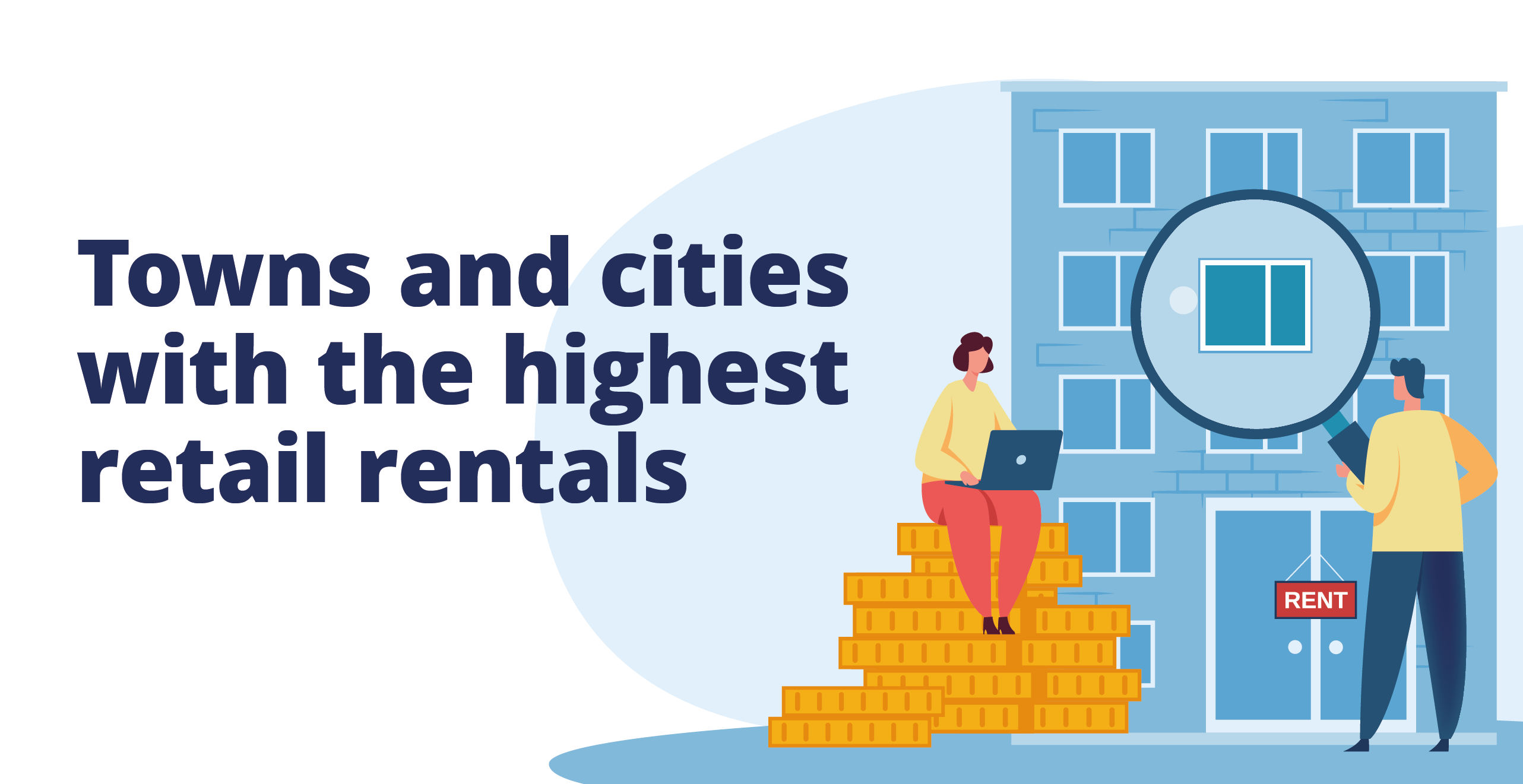 The UK is one of the biggest European commercial real estate markets, with retail units in some of London's busiest locations priced at a premium per square foot [1].
But with online sales now outstripping in-store purchases, are rental rates staying competitive to keep retail businesses on our high streets in our towns and cities?
Recent reports suggest that more than 17,000 chain store shops closed in 2021 in the UK [2] and businesses with physical stores are saying that energy bill hikes could force them to close their doors [3]. Could increasing retail rental prices also be damaging trading?
We wanted to find out which UK towns and cities had some of the most expensive and affordable retail rental prices per square foot. 
UK's number one for director advice
We handle more corporate insolvency appointments than any other UK firm; demonstrating our commitment to helping directors and business owners in financial distress.
The team are available now -  0800 644 6080
The most and least expensive retail rentals across the UK
By scraping the current commercial retail listings on Zoopla and Rightmove and benchmarking these against Realla, a search engine for commercial property, our analysis has shown that, unsurprisingly, the UK's capital, has the most expensive retail rental prices per square foot, per annum at £49.64.
Having some of the highest footfall and multiple tourist hotspots, it's easy to see why London has the most expensive retail property rents per square foot. However, experts have also predicted that prime retail rentals in London city will fall by 1.1% until 2025 [4], suggesting that London might not continue to command the same premiums for retail units. 
Trailing slightly behind, but not that much cheaper per square foot, is Oxford - at an average of £49.51. Although recent reports have revealed that Oxford is among some of the UK's worst for empty retail units since the pandemic [5], retail rent could still be at a premium because of lots of council investment in the area, a budding population of younger professionals thanks to planned new housing developments, as well as tourism generating around £780m of income a year for local businesses. 
The third highest average price per square foot per year is York at £47.75. York is a historic city, which attracts over 7 million visitors a year [6]. It was also named the third best place for independent shopping [7], which could explain why it has some of the highest rental prices in the country.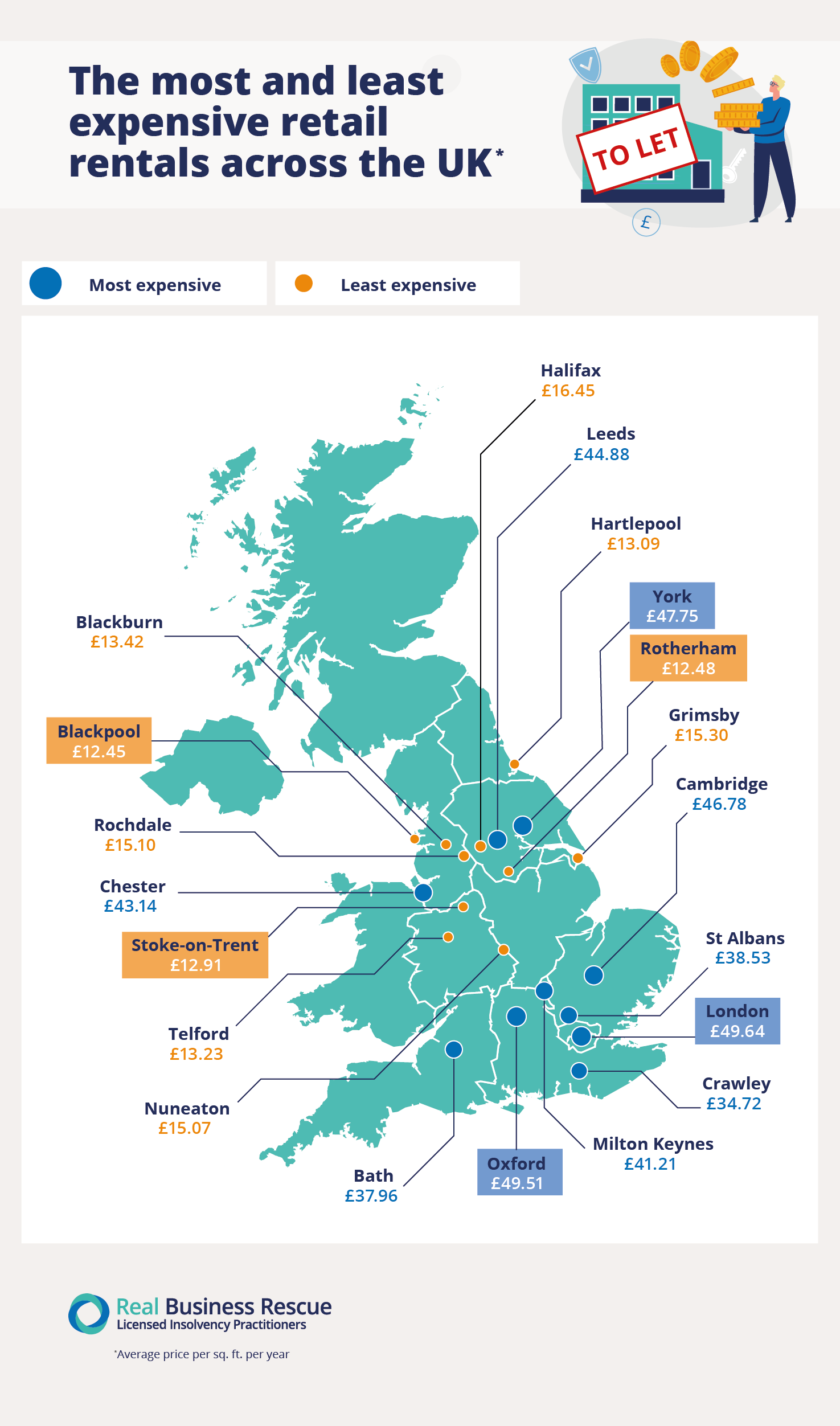 In terms of the lowest retail rental price, Blackpool is the cheapest at an average of £12.45 per square foot per year. 
The seaside town of Blackpool saw a record boom in visitors in 2021 following the pandemic - more than 12 million people visited the town centre, compared to about 9 million in 2019. The council are looking to build on these record-breaking figures for the foreseeable, which means this could be a lucrative location to open a retail business. 
The average annual rent per square foot of retail units in the UK's cities and towns
Retail rental across the UK's cities and towns ranged from an average of £49.64 per square foot per year at its most expensive, to £12.45 per square foot at its cheapest, on average.
Outside of London, Birmingham is the UK's largest city in terms of population and it also ranks in position 32 as having the highest retail rental at £26.13 per square foot on average each year. 
Birmingham has some of the busiest retail quarters and high streets with big named brands, but sadly, one in five shops sit empty across the West Midlands [8]. This could explain why commercial rent for retail property is so competitive in Birmingham, to tempt businesses into its vacant shops. 

In Scotland, the capital, Edinburgh, has the highest retail rent price at £34.49 per square foot per year, compared to Glasgow at £20.49 on average per square foot per annum. 
Wales' most expensive location per square foot is Cardiff at £27.11, almost £7 more expensive than Glasgow. In Ireland, Belfast's average price per square foot per year is £24.95, almost £10 cheaper annually than Scotland's capital.
The average annual rent per square foot of retail units in London's boroughs
Being the UK's capital, London was always going to top the list of the most expensive commercial rental prices. By comparing individual boroughs we can see which areas are hotspots for retail rental prices.  
At almost £23 more on average per year than the borough in second place, Kensington and Chelsea is the most expensive borough per square foot, at £86.18. The City of London comes in second at £63.96 per square foot, on average. The third most expensive is Camden, at £56.21 per square foot per year, almost £30 a year cheaper than Kensington and Chelsea. 

Kensington and Chelsea is home to some pricey shopping districts and high streets, including Kensington High Street, King's Road and Knightsbridge, where you'll find many designer fashion brands and specialist jewellers, which is likely why the rental here reflects the higher priced items sold. 
The cheapest borough in London to rent a retail property per square foot is Barking and Dagenham at £23.16 on average per year.
The average annual rent per square foot of retail units on highstreets with the highest and lowest footfall
The success of retail stores partially depends upon footfall, so we also explored the footfall recovery scores of the UK's towns and cities compared to their average rental price per square foot each year.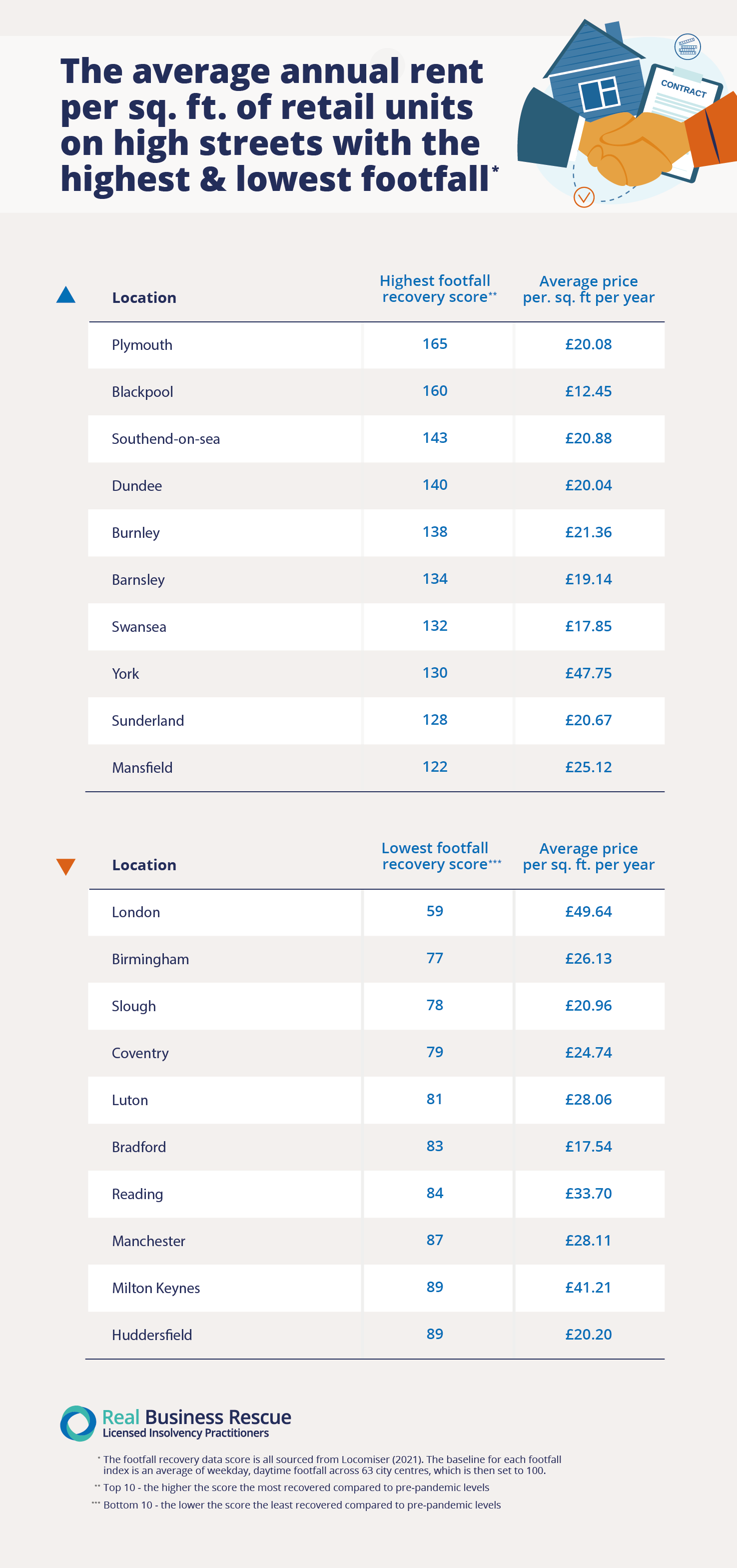 Plymouth, which ranks in 70th place out of 100 towns and cities analysed, has the highest footfall recovery score, according to the Centre for Cities high street recovery tracker post-lockdown.
The recovery index score is a number between 59 and 165, and Plymouth has scored 165, showing it has seen footfall return or 'recover' to pre-pandemic levels more quickly than other locations.   
London might have the highest rental price per square foot, but it also has the lowest footfall recovery score at 59 out of a possible 165. This suggests that London is the least recovered compared to pre-pandemic foot traffic levels. This indicates that businesses in the capital might not be getting value for money paying premium retail rent when the footfall isn't quite up to previous activity. This also might be linked to the number of office workers in the capital who are spending much more time working from home. Reports have shown that London's footfall levels trail well behind those of other countries capital city's pre-pandemic footfall levels. And some experts have said that this shift to home-working has left London's high streets "permanently scarred" [9]. 
Is your retail business struggling to pay overheads?
In these tough economic times, where many high street shops are still trying to recover from the effects of coronavirus, as well as facing rising energy prices and online shopping behaviours, cash flow problems might start to creep in, leaving a business unable to pay its liabilities and overheads as and when they are due, and perhaps being forced to close its doors.
Business cash flow problems open the door for a number of other issues like dealing with creditors that could see you entering into an HMRC time to pay arrangement. And this could escalate further with creditors potentially seeking assistance from the court to recover any further debts from you, otherwise known as a CCJ (County Court Judgment). 
CCJs carry further risks that you may not be aware of, including:
Being a precursor to a winding up petition against your business
Damaging your business credit rating, and potentially your personal credit rating
Creating difficulty in obtaining business borrowing in the future
However, it is possible to challenge CCJ, and under certain circumstances, you can look into CCJ removal. Get in touch today for free, confidential advice to discuss your options.
===
Sources
1. https://www.retailgazette.co.uk/blog/2018/11/new-bond-street-crowned-europes-expensive-shopping-street/ 
2. https://www.bbc.co.uk/news/business-60418435 
3. https://www.theguardian.com/money/2022/aug/19/uk-small-businesses-forced-to-close-by-soaring-energy-bills 
4. https://www.statista.com/statistics/1171967/average-prime-retail-rental-growth-forecast-by-city-in-europe/ 
5. https://www.oxfordmail.co.uk/news/20130642.oxfords-empty-shops-caused-perfect-storm-city/ 
6. https://www.york.gov.uk/city-centre-york-6/city-centre-york-open-community-brief/
7. https://www.yorkpress.co.uk/news/20119444.york-named-third-best-place-independent-shopping/ 
8. https://www.expressandstar.com/news/business/2022/04/04/almost-a-fifth-of-high-street-shops-in-the-west-midlands-are-sitting-vacant-study-shows/ 
9. https://www.telegraph.co.uk/business/2022/06/13/working-home-revolution-leaves-permanently-scarred-high-streets/ 
Methodology
The rental price per square foot per year was collected for all retail properties (that listed a price in this format) being offered on Rightmove and Zoopla for the top 100 towns/cities per population size. The average rental price for each town/city was collected from Realla, and combined with the average prices from the Rightmove and Zoopla data to give an overall average.
Where there were less than 10 individual listings on Rightmove/Zoopla the Realla price was used as the overall average.
Data
Data collected 27-29 September 2022 and is available to view here.
Free 60 Second Test
For Ltd Company Directors
Get An Instant Understanding Of Your:
Debt and Asset Position
Director and Liability Review
Next Steps
Plus much more ...
Real Business Rescue Recommended
Next Steps
We provide free confidential advice with absolutely no obligation.
Our expert and non-judgemental team are ready to assist directors and stakeholders today.
60 Second Test
---
Understand your company's position and learn more about the options available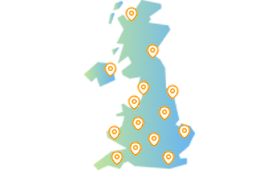 Office Locator
---
Find your nearest office - we have more than 100 across the UK. Remote Video Meetings are also available.
Contact Us Today
---
Free, confidential, and trusted advice for company directors across the UK.