Extending the repayment period of your Bounce Back Loan
Bounce Back Loans (BBLs) were made available to businesses throughout the coronavirus pandemic to provide easy access to financial support. BBLs were offered with a standard loan term of 6 years, and the option to extend to 10 years was made available under the Pay As You Grow (PAYG) Scheme. What happens if you extend your Bounce Back Loan repayment term?
60 Second Test Find Your Nearest Office
What increasing your Bounce Back Loan term means for your company
When Bounce Back Loans were first made available in March 2020, they were offered under a six-year repayment term. With no repayments due for the first 12 months, this meant that the full amount borrowed through the Bounce Back Loan scheme would be repaid through monthly instalments for the remaining 5 years of the total term.
For those accessing the full £50,000 available, this could mean initial monthly payments in excess of £900. Factoring this significant monthly cost into already squeezed cash flow projections was likely to be unmanageable to many while their company recovered from the financial fallout of the Covid-19 pandemic.
Received a Bounce Back Loan?
Don't Worry - There are thousands of other company directors going through the same process. No matter what position you are in and need looking for options, speak to a member of the Real Business Rescue team. It's Free & Confidential.
The team are available now -  0800 644 6080
Understanding the Pay As You Grow (PAYG) Scheme and Bounce Back Loan Extensions
In an effort to help businesses as they emerged from lockdown restrictions, the government announced the Pay As You Grow – or PAYG – scheme. This contained a series of measures to help make paying back an existing Bounce Back Loan more affordable. One of the features of this scheme was the ability to lengthen the term of the loan from the original six years.
Through the PAYG scheme, you are now able to request an extension to the term of your Bounce Back Loan, giving you an additional four years to repay the money borrowed. By extending the repayment term of your Bounce Back Loan to 10 years, you will see you monthly payment amount decrease by almost half. While this may seem a tempting prospect, you should be aware of the pros and cons of taking advantage of this extension option.
Should I extend my Bounce Back Loan?
All extensions to Bounce Back Loans will have the same fixed rate of interest of 2.5% applied to the life of the loan. While the interest rate remains the same, however, the amount you will actually pay in interest over the duration of the borrowing will be more if you choose to extend your repayment term. This is because interest will be charged on the balance for 10 years rather than 6. Depending on the amount borrowed, this could mean you repay several thousands of pounds more by opting to extend the loan.
For some companies, however, extending the term of the loan may be hugely beneficial from a cash flow point of view. By taking the Bounce Back Loan over 10 years, your monthly repayments will be almost half what they are under a 6-year term. This difference could make a massive difference in a company's ability to keep up with the repayments in an affordable and sustainable way.
As Bounce Back Loans come with a low fixed rate of interest of just 2.5%, extending an existing Bounce Back Loan to free up money every month could well work out to be cheaper than taking out another form of funding to bridge the cash flow gap.
What if I need more help with my Bounce Back Loan?
If you have having problems repaying your Bounce Back Loan – or fear that you may well encounter problems in the future – it is important you seek expert guidance at the earliest possible opportunity. An inability to keep up with the repayments on your Bounce Back Loan could hint at deeper financial problems with your company which need to be addressed.
At Real Business Rescue, our team of expert advisers are here to provide you with the help and advice you need during challenging financial times. We will take the time to assess your situation and help you understand all the options open to you. It may well be that we recommend extending the length of your Bounce Back Loan, or alternatively we could suggest alternative ways of freeing up cash flow and turning around your business.
Need to speak to someone?
If your company is struggling with unmanageable debts, squeezed cash flow, or an uncertain future, you are far from alone. We speak to company directors just like you every single day, and we are here to give you the help and advice you need.
Call our team today on 0800 644 6080
If you know your company is simply unable to repay its Bounce Back Loan, we can help there too. With company strike off not an option with an outstanding Bounce Back Loan, closure must be done through a formal voluntary liquidation procedure known as a CVL.
Our licensed insolvency practitioners can act as liquidators and ensure your company is closed down in the most effective and efficient manner possible, while dealing with the outstanding balance on your Bounce Back Loan as part of the process. Call the team today.
Contact the RBR Team Today
---
Free download
Free Insolvency Report
Claim Your Free Business Review
All UK sectors are experiencing specific challenges at present, particularly in light of the Covid-19 pandemic. Find out how your sector is performing here.
Simply search your Limited Company Name or Company Number
Please select your company from the list below:
We will also check if you're eligible for Director Redundancy
Next Steps
We provide free confidential advice with absolutely no obligation.
Our expert and non-judgemental team are ready to assist directors and stakeholders today.
Free Business Review
---
Claim your Free Business Review to understand what options are available to you.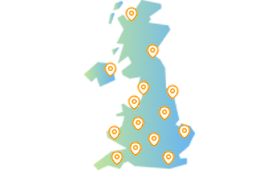 Office Locator
---
Find your nearest office - we have more than 100 across the UK. Remote Video Meetings are also available.
Contact Us Today
---
Free, confidential, and trusted advice for company directors across the UK.