Can a director be personally liable for company debts?
A company director can be held personally liable for the debts of their company in certain instances. Any debts belonging to the company which have been secured with a personal guarantee will need to be repaid by the director should the company become insolvent and enter liquidation. Directors can also be held liable for company debts should he or she be found guilty of misconduct or of obtaining the money via fraudulent means.
60 Second Test Find Your Nearest Office
Can Directors Be Held Liable For Company Debts in a Limited Company?
When a limited company is insolvent, the business is bankrupt and therefore unable to repay debt due to a shortage of cash.
When setting up your business you have two main ways in which you can choose to operate; you can take on work as a sole trader, or alternatively you can incorporate as a private limited company. Both structures have their own pros and cons, however, the main benefit of operating as a limited company is that your business will be seen as its own separate legal entity, something which can be vital should the company run into financial difficulties further down the line.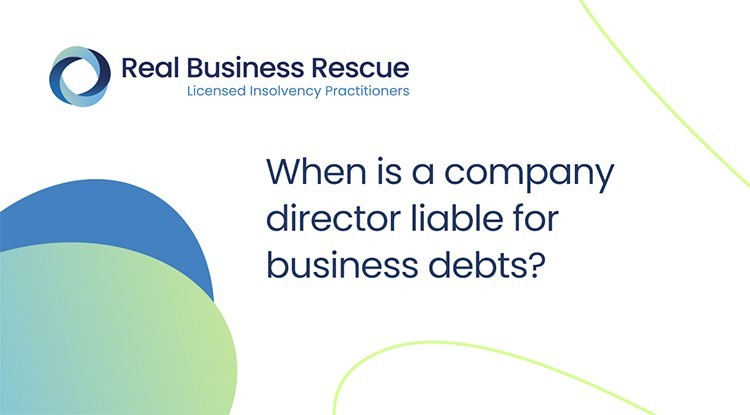 What is a liability?
In business terms, a liability often refers to a sum of money or other debt owed by a company. This could take the form of a loan, hire purchase agreement, or an invoice which remains unpaid. It is often said that a huge advantage of operating as a limited company is that of limited liability. But what does limited liability actually mean? Simply put, limited liability is a layer of protection placed between the company and its individual directors. This means the directors cannot be held personally responsible if the company is unable to pay its debts.
Received a Bounce Back Loan?
Don't Worry - There are thousands of other company directors going through the same process. No matter what position you are in and need looking for options, speak to a member of the Real Business Rescue team. It's Free & Confidential.
The team are available now -  0800 644 6080
Can company debts be written off?
Business liabilities will be written off should the company enter a formal insolvency procedure such as a Creditors' Voluntary Liquidation (CVL). Any outstanding creditors are not allowed to demand the company director make payments from his or her own personal finances to pay back this money. Essentially the debts of the company die with the company.
When can a company director be held liable for company debts?
While company status offers valuable protection to a director, there are certain situations where limited liability can be disregarded, leaving the director responsible for paying the company's debts.
These include:
Overdrawn director's loan accounts
Signing a personal guarantee
Debts have accumulated due to fraudulent means (such as taking on credit you knew you wouldn't be able to repay)
Director misconduct
Continuing to pay shareholders dividends whilst the company is insolvent
Withdrawing and/or using company funds for non-business activity; this is an offence known as misfeasance
Disposing of the company's assets at undervalue or no value
Let's look at some of these situations in more detail:
Personal Guarantees (PG) – Unless your company is well-established and with an unblemished credit history, it is likely that banks and other lenders will ask you to sign a personal guarantee before they will agree to any unsecured borrowing. In fact, for start-ups it is almost impossible to obtain any source of funding, or even sign a lease on commercial premises, without first providing a PG to the lender. This is because a PG provides the bank with a safety net should your company become insolvent or is otherwise unable to pay back the money it owes.  As has already been discussed, a director cannot be held responsible for the debts of his or her company due to the protection offered by limited liability. A personal guarantee essentially removes this protection by making the director of the company liable for repaying the debt should the company not be in a position to do so.
Overdrawn Director's Loan Accounts – A director's loan account (DLA) allows a company director to extract money from their business in a way that isn't a salary, dividend, or expense. Any transactions must be clearly recorded, and if you take out more money than you put in, the account will be overdrawn and you will owe your company this amount. As long as this figure is kept below £10,000, having an overdrawn director's loan is not usually an issue; however, if the business becomes insolvent, the situation becomes much more complicated. Should a business become insolvent, any overdrawn director's loan accounts will be seen as an asset of the business. This means directors will need to pay back the money they have borrowed from the company so that it can be used to repay creditors. Unfortunately it is often the case that directors are not in the financial position to do this at a time when his or her company is experiencing such problems. Rules surrounding overdrawn director's loan accounts, particularly when the company becomes insolvent, can be extremely complex and it is advisable that you seek professional guidance as soon as you possibly can.
Directors' duties
Once a company has become insolvent - that is its debts and creditors are greater than its assets - the directors of the company have a statutory duty to act in the best interests of the company's creditors as a whole.  The directors must be able to demonstrate that they have done everything possible under their control to ensure the repayments of all creditors using the company's resources.
The directors cannot deliberately take any actions that would cause the company's debts to increase or go unpaid.  The directors should not show any favouritism towards particular suppliers or creditors – this would be known as making a preference payment.  If a director fails to meet his or her fundamental duties of acting in the interest of all the company's creditors whilst trading insolvent, they are likely to face severe personal liabilities and disqualification from acting as a director of a limited company in the future.
Shareholders' liability for company debts
In small companies, the directors are often the only shareholders; however, this is not always the case. For example, it could be that an individual has resigned from their position as director but remained a shareholder. In the case of business insolvency, shareholders are treated the same as directors, in so much as they are covered by limited liability and only liable up to the value of their shares; consequently will not be legally obligated to pay the debts of the company unless a PG has been entered into.
What are the consequences for a director if they become liable for company debts?
If directors are held liable for company debts then they will be expected to pay these just as they would any other personal debt. Unfortunately dealing with an insolvent business often has a negative impact on personal finances. Perhaps personal savings have been depleted in an attempt to keep the company afloat, or maybe the closure of the company resulted in the loss of the director's only source of income. Regardless of the reason it is an unfortunate fact that these problems often go hand in hand. Just as the company was unable to pay its debts and had to consider insolvency options, if you as an individual cannot meet your liabilities, you will also be required to look at the various personal debt solutions which exist. Depending on the scale of your debts and the level of personal assets you have, options can range from a Debt Management Plan (DMP), through to more formal insolvency procedures such as an Individual Voluntary Arrangement (IVA) or bankruptcy.
How director redundancy can help
If you are the director of a limited company, it is likely that you are also classed as an employee of the company too. This means that should your company become insolvent and is closed down through a formal liquidation procedure such as a CVL, you could be in line to receive director redundancy. This works in the same way as a redundancy pay-out would be to your staff. As long as your company has paid you a regular salary through the PAYE system, and the business has been incorporated for at least two years, you are likely to qualify for redundancy once your company is liquidated.
The amount you may be able to claim depends on your age, length of service, and the salary you earned during this time. This pay-out could help you settle your personal liabilities, pay for your company's liquidation, and even leave some left over for you.
Sole traders and liability for business debts
If you are operating as a sole trader, the situation with business debts is different. As a sole trader there is no legal distinction between yourself and your business, therefore any debts your business accumulates will be classed as personal liabilities. Ceasing trading and closing down your business will not wipe out your debts, and you will be expected to continue paying them using your personal finances.
Should your sole trader business run into financial difficulties and you find yourself unable to keep up with your obligations to suppliers, HMRC, or your debt repayments, there are still options out there for you, but they differ to those available for directors of limited companies. Instead of looking at company liquidation, you will need to consider personal insolvency options such as IVAs and bankruptcy.
Need to speak to someone?
If your company is struggling with unmanageable debts, squeezed cash flow, or an uncertain future, you are far from alone. We speak to company directors just like you every single day, and we are here to give you the help and advice you need.
Call our team today on 0800 644 6080
Partnerships and liability for business debts
A partnership can be run in two ways: either as a limited partnership, or a limited liability partnership. The structure chosen determines how company debts are treated should the business be unable to con
tinue trading. A limited liability partnership enjoys the same protection of limited liability that a limited company does. This means the individual partners will not be expected to pay any debts the company is unable to.
However, if you operate as a limited partnership, the rules are different. A limited partnership is comprised of at least one general partner, and one limited partner, and in English law are not viewed as their own legal entity. While the limited partner will have limited liability for the debts of the company, the general partner will assume liability in the event of the partnership being unable to meet its financial obligations.
Next Steps
If your business is experiencing financial difficulties and you are concerned about being held liable for these debts, contact the specialists at Real Business Rescue today. We will take the time to understand your position and work alongside you to come to a plan going forwards. Call our expert team today.
With 100+ offices stretching from Inverness down to Exeter, Real Business Rescue can offer unparalleled director advice across the UK.
Contact the RBR Team Today
---
Free download
Free Insolvency Report
Claim Your Free Business Review
All UK sectors are experiencing specific challenges at present, particularly in light of the Covid-19 pandemic. Find out how your sector is performing here.
Simply search your Limited Company Name or Company Number
Please select your company from the list below:
We will also check if you're eligible for Director Redundancy
Next Steps
We provide free confidential advice with absolutely no obligation.
Our expert and non-judgemental team are ready to assist directors and stakeholders today.
Free Business Review
---
Claim your Free Business Review to understand what options are available to you.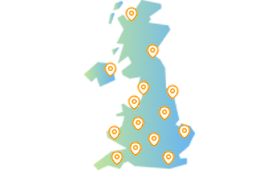 Office Locator
---
Find your nearest office - we have more than 100 across the UK. Remote Video Meetings are also available.
Contact Us Today
---
Free, confidential, and trusted advice for company directors across the UK.