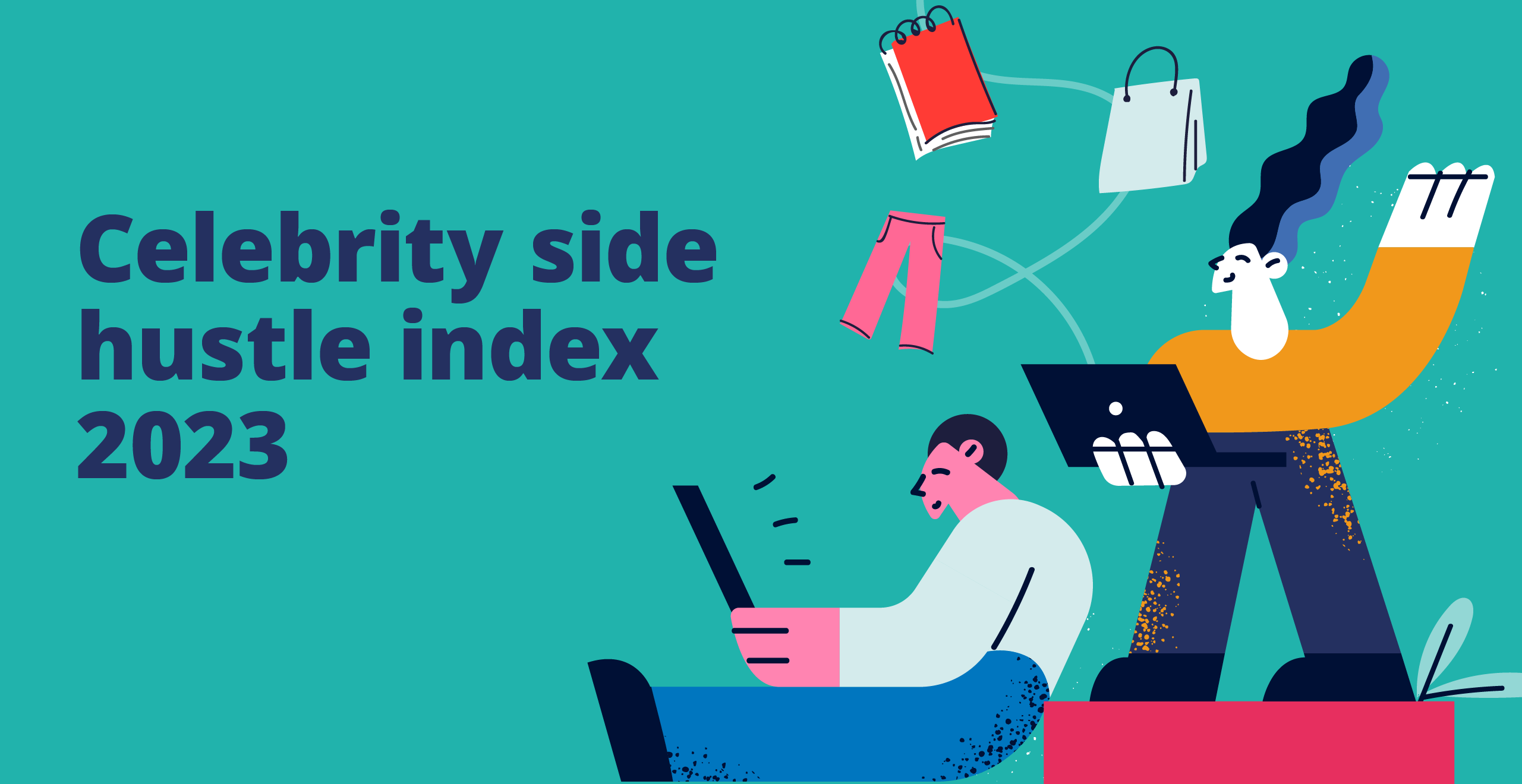 Nowadays it's common for a lot of people to have a side hustle. Whether that's an Etsy shop, an influencer presence, or making deliveries at the weekend, many people are exploring ways to generate multiple streams of income.
But there's one group of people you might not expect to be hustling on the side of their day jobs, and that's the rich and famous. However, it's now become a new norm for celebrities to launch a business and flex their entrepreneurial skills.
So aside from knowing a lot about our favourite celebrities in their existing day jobs, thanks to media interest, we wanted to find out how enterprising celebrities are in their side hustles. We, therefore, compiled a list of 15 well-known celebrities and their businesses' financial health metrics in order to score and rank which celebrity side hustles are performing the best and determine how successful celebrities are as entrepreneurs.
Take Our Free 60 Second Test
Get an instant understanding of your:
Debt and Asset Position
Formal Insolvency Options
Next steps
Plus much more ...
Start The 60 Second Test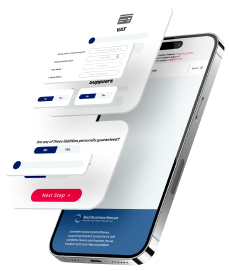 How are celebrity side hustles performing?
Some celebrities will flaunt their side ventures. And why not, if you can use your existing wealth and influence to promote a venture to get it off to a roaring start, it makes absolute business sense!
But some famous individuals can be quite low-key about their other projects, making it difficult to track down their other ventures. So using seed lists from magazine and newspaper articles from the last few years, we were able to collate a list of 15 talented celebrities in their own specific fields and find their side hustles on government databases like Companies House where they are listed as directors or founders.
Our index scoring system has taken financial health metrics such as the side venture's current net worth, the liquidity/acid test ratio score (which indicates that the company is in a good position to cover its short-term obligations as they fall due) and their side hustle's years of trading, alongside other metrics like the celebrities' own net worth.
According to our index scoring system, 90s fashion icon and model, Kate Moss, has the most successful side hustle of the 15 celebrities included in our data set, scoring 84.3 points out of 100.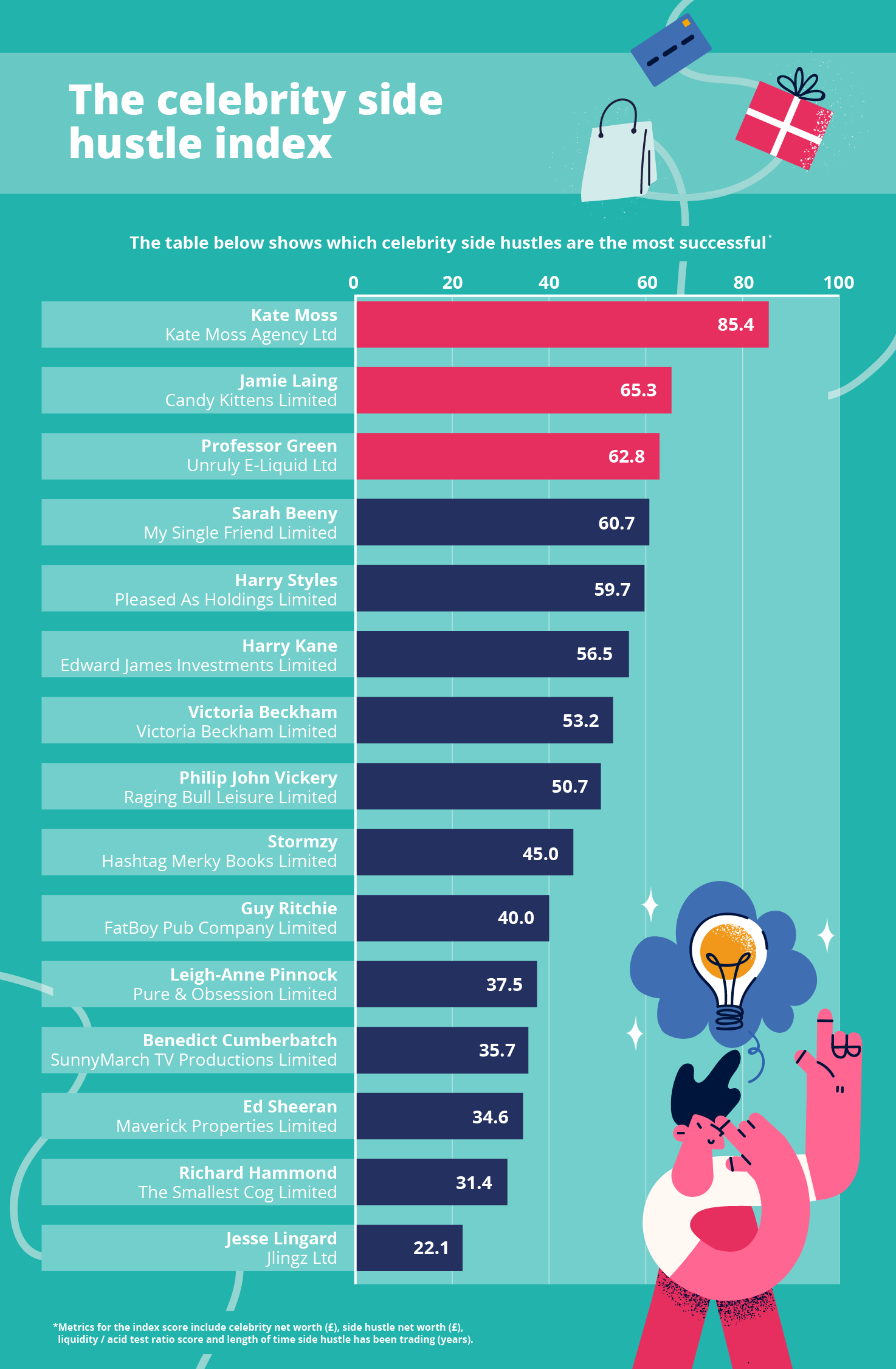 The Kate Moss Agency Ltd is a British talent agency based in London and was founded in September 2016. According to Companies House and companycheck.co.uk data, Ms. Kate Moss is listed as a director, appointed on the 14th November 2014.
Whilst Kate Moss' business has not been trading for as long as some of the other businesses included in our index, the liquidity/acid test ratio score sits at 2.57. The significance of this is that with an acid test ratio of at least 1, it means a company should be in a good position or have adequate liquidity to pay current liabilities when payments are due. Generally, the higher the acid test ratio number, the more cash and near-cash liquid assets a company has.
However, caution should be followed with these figures. If a high ratio for the acid test is too high, the company may have too much idle cash that could be used more strategically in the business to bring higher returns. Therefore, a good acid-test ratio is at least 1, but not too high.
UK's number one for director advice
We handle more corporate insolvency appointments than any other UK firm; demonstrating our commitment to helping directors and business owners in financial distress.
The team are available now -  0800 644 6080
60 Second Test Find Your Nearest Office
And at the other end of the spectrum, if a company's asset test ratio is too low, lenders may be reluctant to offer financing to the company because insolvency risk is higher. Therefore the current ratio of Kate Moss' business looks stable within these terms.
The second most enterprising side hustle, according to our index's calculations, is Jamie Laing's confectionary company, Candy Kittens Limited, of which he is listed as the founder. Scoring 67.2 out of a possible 100 points, with a liquidity/acid test ratio of 1.03 - which is another healthy figure when looking at the ability to pay any liabilities.
Jamie Laing shot to fame on the reality television series Made in Chelsea, appearing in the second series in 2011. But the 34-year-old has also made a success of his side hustle, which specialises in vegan and vegetarian sweets, available to purchase in well-known supermarkets. His success in the "treat" market could well be in the blood, so to speak, as he is the great-great-grandson of Sir Alexander Grant, 1st Baronet, who created the McVitie's digestive biscuit in 1892.
Scoring at the bottom of the list of our 15 celebrity side hustles is Jesse Lingard's JLingz Ltd clothing brand, with 22.1 points. There have been numerous reports in the media of big losses in the brand's first year of trading in 2018, which could be potential factors in this side hustle not performing as well as the other celebrity businesses.
Celebrity's side hustle net worth as a percentage of their total net worth
We know that celebrities have become famous before launching their own secondary ventures. So we wanted to find out what percentage their side hustle is of their primary income.
Using data freely available on our celebrities' individual net worth, we have discovered that Sarah Beeny's side hustle, My Single Friend - a dating website with a net worth of £508,716 - accounts for 20.3% of her total net worth, which is listed at around £2,501,730 as of this year. Meaning her side hustle could potentially be forming more of her total net worth as an individual than any other celebrity included in our data set.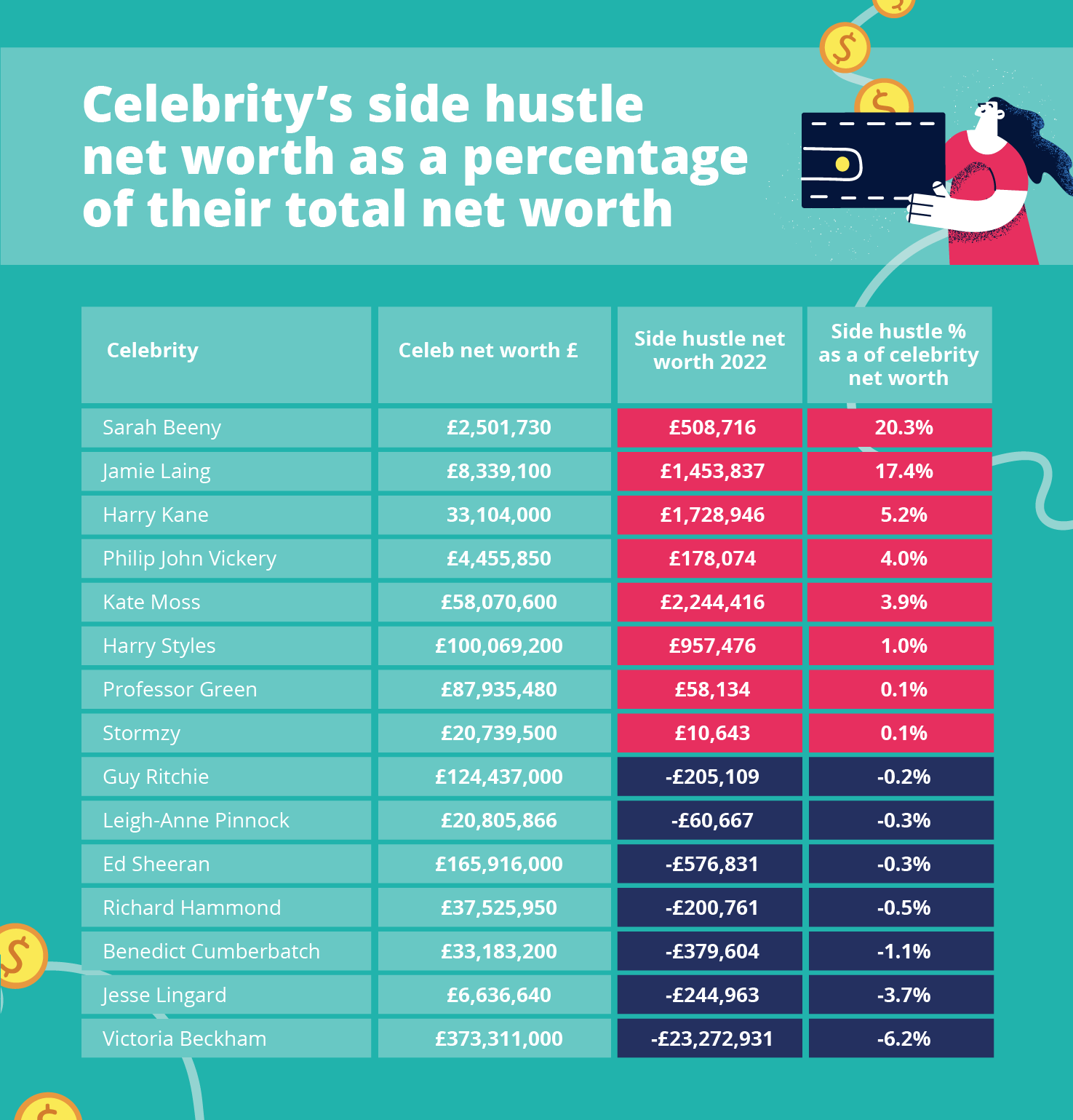 The second celebrity entrepreneur, whose side hustle contributes potentially the second most to their individual net worth is Jamie Laing. Sources set his current net worth at £8,339,100, with his side hustle net worth listed as £1,453,837 on companycheck.co.uk, which is 17.4% of his celebrity net worth.
Having multiple revenue streams is a savvy thing in this day and age, and what's better than using your existing status to start a business? After all, the business world doesn't have to be off-limits to TV presenters, reality stars and pop stars alike.
Speaking of popular music, our data has also revealed that some side hustles are not performing as well as others and this appears to be the case for Spice Girl, Victoria Beckham.
Wife to football legend, David Beckham, Victoria is known for her designer clothing line. But recent reports have suggested that her side hustle was racking up a fair bit of debt last year. Companies House data listed her business, at a minus net worth of -£23,272,931, which accounts for -6.2% of her individual net worth.
Celebrity side hustles vs 2022 industry insolvency figures
The past few years have been without a doubt a tumultuous time for UK business, largely due to the pandemic, and our latest business distress figures for 2022 Q4 showed SMEs across the UK are facing unprecedented levels of distress as the country grapples with a post-Covid cost-of-living crisis.
The total number of SMEs in significant distress in Q4 2022 is 610,405 – this is a 3.6% increase on the same period in the previous year (Q4 2021) and a 0.5% increase on the previous quarter (Q3 2022).
These figures support the rising levels of insolvency cases – namely liquidations, administrations and restructuring processes such as company voluntary arrangements.
Most sectors have seen year-on-year increases in business distress, and some appear to be harder hit than others, which means that even celebrity entrepreneurs might not escape these challenging economic times.
Taking each celeb side hustle's nature of business as listed on Companies House, we compared this to the government's business insolvency data of total business insolvencies from January - December 2022, to find out how many businesses had gone insolvent in the same sector as the celebrity side hustles.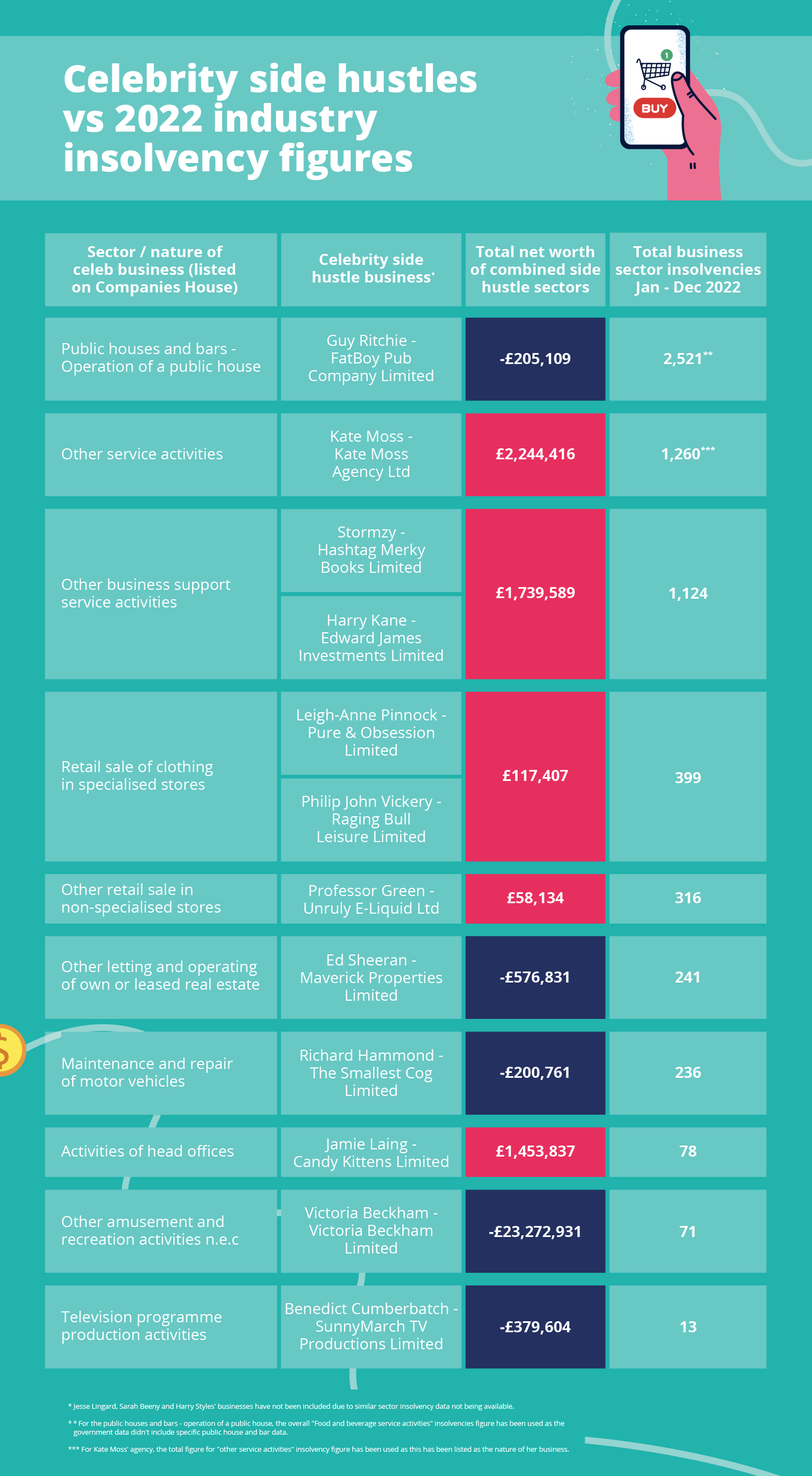 Guy Ritchie's FatBoy Pub Company Limited is a giveaway for the nature of his business. It's no secret that UK pubs have faced challenging times not only during the Covid lockdown, as they physically couldn't trade, but also rising operational costs and reduced demand due to the cost of living crisis have seen UK pub closures in 2022 near to the highest level in a decade.
Although exact insolvency figures for pub-type businesses aren't outlined specifically in the government's company insolvency database for 2022, the next most relevant sector figure is 2,521 insolvencies for "Food and beverage service activities" in 2022 in total. This means this sector, taken from those included in the celebrity sides hustle index, has seen the most insolvencies overall.
This is followed by businesses listed as "Other service activities" of which Kate Moss' agency is listed as. This covers a broad spectrum of business types and this sector has seen 1,260 insolvencies in the whole of 2022.
At the other end of the spectrum, although a more niche nature of business, Television programme and production activities, of which Benedict Cumberbatch's business SunnyMarch TV Productions Limited falls within, has only seen 13 insolvencies across last year. It's important to note here, that fewer insolvencies is relevant to the total number of businesses registered and trading within this sector and is not an immediate reflection of how well a sector is performing.
What to do if you think your business is in trouble?
As our side hustle research has shown, a successful celebrity doesn't always equate to a successful entrepreneur. And during these tough economic times, it can be challenging for business owners too, no matter who you are!
It's critical to respond promptly if you think your company is failing. The first step is to ascertain whether the business is insolvent because if it is, you must stop trading in order to protect the position of your creditors.
A number of problems, such as the loss of a crucial client or an unexpectedly high bill, can lead to business collapse. After Covid, there was a widespread market decline that presented difficulties for enterprises across many industries.
What warning signs of a failing business should you be on the lookout for, and what choices do you have if your company is struggling?
What are the typical indications of a failing business?
Here are just a few indications that a firm is failing:
You are unable to obtain any more credit or loans
You are under constant pressure to pay your creditors
You're having trouble keeping up with your company's liabilities
Your normal wage will not be supported by the company
Using the following solutions, you may be able to ease the strain on your company's cash flow if you're dealing with one or more of these problems.
Tips to reduce pressure on business cash flow
Time to Pay (TTP) arrangement with HMRC - HMRC runs a Time to Pay scheme that gives qualified businesses more time — typically 3-6 months — to pay their tax arrears. Although you must keep your current tax obligations current, paying down your arrears free of HMRC reminders and penalties is a significant advantage.
Financing options - Even if your bank declines to extend more business loans, you might be able to find an alternate source of capital that aids in the company's recovery. A variety of alternative kinds of finance exist, including invoice financing, which is flexible, individualised capital that may be acquired more quickly than standard bank loans. Depending on the nature of your firm, asset-based financing and merchant cash advances may also be appropriate.
Informal discussions with creditors - You can attempt to informally negotiate with your creditors to temporarily reduce your monthly payments. By doing so, the strain on cash flow would be lessened and the company's finances might regain some stability. Creditors are often open to informal payment plans as their worst case scenario is that they wait for payment in full and ultimately receive nothing.
Formal negotiations with creditors, including a Company Voluntary Arrangement (CVA) - a Company Voluntary Arrangement, which officially restructures your company's debt, may be a smart choice. With a CVA, which normally lasts two to five years, you return a part of your debts while having the remaining written off.
Creditors' Voluntary Liquidation (CVL) - Your only alternative if the company cannot be saved is to file for Creditors' Voluntary Liquidation. The business closes as a result, but by participating in the process, you uphold your legal duties as a director and prioritise the interests of your creditors.
It's difficult for many firms to recover during this post-Covid era, so if you think yours is failing, or heading towards company insolvency or liquidation, you should get qualified insolvency advice as soon as you can.
The experts in insolvency are Real Business Rescue. To help you swiftly determine your alternatives, we can provide you with a free same-day consultation. We also run a vast network of offices around the UK.
Real Business Rescue are here to help
Still unsure whether liquidation is right for your company? Don't worry, the experts at Real Business Rescue are here to help. Our licensed insolvency practitioners will take the time to understand the problems your company is facing before recommending the best course of action going forward based on your own unique circumstances.
UK's Largest Liquidators
100+ Offices Nationwide
100% Confidential Advice
Supported 25,000+ Directors
Meet The Team
Team of Qualified Experts
Trusted team of experts on hand to assist
Meet The Team
Looking for immediate support?
Complete the below to get in touch
Free 60 Second Test
For Ltd Company Directors
Get An Instant Understanding Of Your:
Debt and Asset Position
Director and Liability Review
Next Steps
Plus much more ...
Real Business Rescue Recommended
Next Steps
We provide free confidential advice with absolutely no obligation.
Our expert and non-judgemental team are ready to assist directors and stakeholders today.
60 Second Test
---
Understand your company's position and learn more about the options available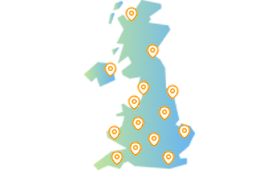 Office Locator
---
Find your nearest office - we have more than 100 across the UK. Remote Video Meetings are also available.
Contact Us Today
---
Free, confidential, and trusted advice for company directors across the UK.