What is a director personal guarantee?
A personal guarantee is a form of security given by a limited company director to underpin company borrowing. While the business remains liable for the monthly repayments of the loan or finance agreement, should the company be unable to keep up with this at any point due to insolvency, the responsibility for repaying the money owed will fall to the director who will be expected to use personal funds to clear the remaining balance.
60 Second Test Find Your Nearest Office
Directors' Personal Guarantees During Liquidation
A personal guarantee agreement holds a company director personally liable if the business is unable to repay money owed. A personal guarantee agreement is typically a requirement when taking out a business loan.
There can be any number of reasons why a company director might be willing to provide personal guarantees in support of a business loan, property lease or line of credit.
Typically, the individual offering these guarantees will assume that the lender will never have any cause to call in their loans in a manner that affects their personal assets.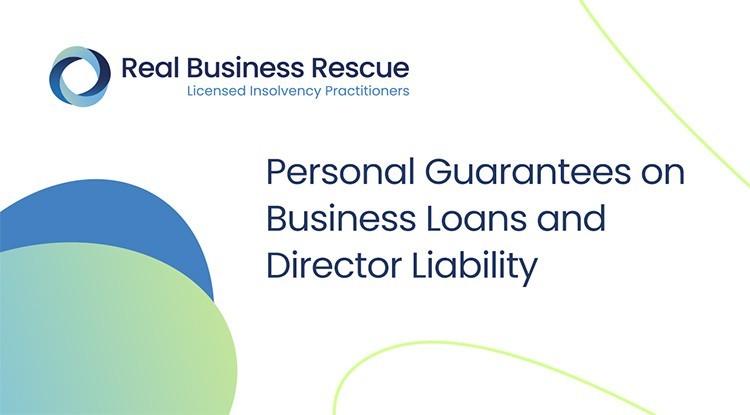 Free Business Review Find Your Nearest Office
Unfortunately, this assumption can occasionally prove misguided where personal guarantees have been given and a business is facing significant financial pressures and cash flow concerns.
Therefore it's very important for anyone offering personal guarantees on business loans to carefully consider the implications beforehand and to understand their options when creditors are looking to seize their assets as payments.
Here's our look at some of the key issues around personal guarantees for company directors.
Received a Bounce Back Loan?
Don't Worry - There are thousands of other company directors going through the same process. No matter what position you are in and need looking for options, speak to a member of the Real Business Rescue team. It's Free & Confidential.
The team are available now -  0800 644 6080
What is a personal guarantee? 
A personal guarantee is an agreement that means a business director takes a certain level of responsibility for his or her company's debts in the event that they cannot be paid back by the business itself. Operators in any sector might consider a personal guarantee worth providing if it means they can access credit or business overdraft facilities or take on debts they are confident of managing comfortably.
From a lender's perspective, a personal guarantee makes a loan deal more secure because responsibility for paying it back falls not just to the borrowing company but to the individual directors involved as well.
Why might a personal guarantee be arranged?
There are almost as many reasons for personal guarantees to be offered in support of a business finance arrangement as there are business finance arrangements. To a lesser or greater extent, the financers of small or medium-sized enterprises will want to know that they will not be left entirely out of pocket if a given company is unable to meet its financial obligations further down the line.
In effect, personal guarantees function as a means of providing reassurance to lenders or finance providers, while allowing businesses to access the funds they need to operate and pursue growth opportunities.
As such, personal guarantees can perform that function and open up the prospect of funding in each of the followings scenarios:
Business bank loan applications


Invoice finance arrangements


Property leases 
 
Trade supply deals 


Asset leasing agreements  
Arranging caps on liabilities
The details of a personal guarantee deal can, and often do, stipulate a cap on the extent of a director's liabilities but this will always be far more difficult to negotiate into an agreement once a company is in a financially challenging or perilous position.
So, for directors, it is vital to consider and include a liabilities cap prior to signing a personal guarantee agreement with a lender.
Advantages and Disadvantages of a Personal Guarantee
The upsides to signing personal guarantees in any of the contexts explained above are clear enough in that they all offer potential routes to financing for SMEs or for companies of any size. However, it is important for individual directors not to overlook the potential downsides to signing personal guarantees under these circumstances.
From the perspective of directors, there ought to be careful consideration given to the fact that signing a personal guarantee can eventually lead to a situation in which your entire financial position is jeopardised. In fact, it's important for directors to realise that what might seem like a hypothetical and highly unlikely scenario, of becoming personally liable for large and insurmountable debts, can all too quickly become a painful financial reality.
A key downside risk for directors giving personal guarantees to support business finance setups is that interest levels on large debts can soon mount up. And, where personal guarantees have been provided, directors can find themselves facing the prospect of having to sell a family home to satisfy creditors and the terms of an arrangement. Under these circumstances, bankruptcy can become a real possibility and lenders might still pursue individuals for payments long after they've stopped working as a director of a particular company.
What to consider before providing personal guarantees: 
Other options - Given the stakes involved, the first consideration you should make if you're thinking about providing personal guarantees on a business finance facility is whether or not there are other options available. If you can raise the funds your company needs without personal guarantees then that will generally be a far more preferable option from your perspective as an individual.
Getting advice - To protect yourself as much as possible in the event that you do provide personal guarantees on behalf of your company, it always helps to take legal and personal financial advice around the issue. Some agreements leave directors more personally liable for business debts than others and even seemingly subtle differences in the details of a guarantee deal can be significant in the long run.
Demanding clarity – A lender will generally prefer to leave individual directors liable for their companies' debts to as great an extent as possible but this isn't always rightfully the case. Therefore it's important for directors who have provided personal guarantees to demand clarity on the issue of exactly where their responsibilities begin and end.
Can personal guarantees be negotiated out of?
There is scope for a company director's personal guarantees to be negotiated out of but the process can be difficult and cooperation on the part of lenders that are still owed money might well prove hard to come by. As with any negotiation process, clear communication is essential and you should make sure all key points of agreement, as well as your own intentions and expectations are detailed in writing wherever possible.
Don't wait for a bank or any relevant creditor to outline where your personal responsibilities begin and end in connection with a company's outstanding debts. If you are aiming to remove yourself from the equation in this kind of context you need to be proactive about it, give clear warning of your intentions and wait to be contradicted if disputes subsequently arise.
The importance of timing
It is very important for directors to be aware of where their personal guarantees remain in play with regard to a specific company and its finances. Lenders will tend to assume that such guarantees remain in place wherever and whenever they can so the onus is on individuals to clarify and get in writing their removal at certain relevant junctures.
The best time for a director to broach the subject of removing a personal guarantee is when the terms of an arrangement have been satisfied in full and where a debt has been paid back entirely. That's the ideal but it is generally the case that your chances of negotiating out of a personal guarantee will be stronger the less indebted or precarious a situation your company finds itself.
Corporate insolvency and personal guarantees 
There is no disguising the negative potential of a situation whereby a director has given personal guarantees in order to secure a commercial loan or finance facility only to see the relevant business enter corporate insolvency.
Consequences could include a director's property assets and personal savings being seized. Plus it might mean a family home and the assets owned jointly with close relatives being seized as well.
The extent to which an individual and his or her assets might be part of the corporate insolvency equation will depend on what kind of personal guarantees were given ahead of a borrowing deal being struck and signed; which again highlights the importance of understanding the risks involved and the potential outcomes ahead of entering a personally guaranteed business loan arrangement.
Co-signing personal guarantees  
Where there are co-guarantors on business loan, lease or overdraft, the respective capacities of each party to pay back monies owed will be scrutinised by creditors if the company enters insolvency. With the right kind of cooperation, all parties can agree a workable solution that avoids any prospect of personal bankruptcy but there is also scope for disagreements and for former colleagues to turn against one another during these sort of negotiations.
As ever, getting good advice from relevant and well-placed specialists in the field can make a big difference for the better from the perspective of individual directors facing up to corporate insolvency scenarios.
Insurance cover for personal guarantees on business loans 
There is no way of knowing for certain exactly how the next few years or the next decade might pan out for your company. Every director would like to imagine that progress will be positive and sustainable but financial problems can emerge from anywhere and with little or no warning. Therefore, there will always be a substantial risk in providing personal guarantees of any sort in the context of business financing and corporate loan arrangements.
Thankfully, there are now insurance policies available to directors who are weighing up their options and considering guaranteeing company loans on a personal basis.
By sticking to the terms of any policy that covers these situations, directors can avoid the worst of the potential pitfalls and strike a better balance of risk and reward as they look to generate the finance their company needs. Personal guarantee insurance protection can also help to establish a more even balance of liabilities among directors of a single company.
Need to speak to someone?
If your company is struggling with unmanageable debts, squeezed cash flow, or an uncertain future, you are far from alone. We speak to company directors just like you every single day, and we are here to give you the help and advice you need.
Call our team today on 0800 644 6080
Getting advice on personal guarantee concerns 
If you are a company director and you're worried about issues around personal guarantees you've given in support of a business finance arrangement of any kind, it's crucial to get advice from experts in the field. Real Business Rescue has a network of offices right across the UK with teams of corporate finance and insolvency specialists delivering clear guidance and valuable support to directors during difficult moments.
Personal guarantees can become a source of real worry when a company's financial position is such that creditors are calling in their debts and assets are being seized. For directors, having personal finances and assets become part of the corporate insolvency picture can be a nightmare scenario.
It's important therefore to know that there are options available even when the prospects of a favourable resolution might seem remote.
However, problems relating to personal guarantees will not disappear on their own and dealing with them properly requires concerted effort, cooperation between relevant parties, well-informed advice and proactive steps to be taken on the part of directors.
Call Real Business Rescue today to speak directly to one of our insolvency specialist and business rescue experts. We can offer free and independent advice free of charge, by phone or at your place of work or one of our UK offices.
Feel free to send us an email or call us for a free confidential advice on liquidation or any other matter related to business insolvency and recovery. 
We have an extensive network of 100+ offices offering confidential director support across the UK.
Further Reading on Directors Personal Guarantees
Personal guarantees help and advice
What happens to a personal guarantee in bankruptcy?
What is an unenforceable personal guarantee?
Contact the RBR Team Today
---
Free download
Free Insolvency Report
Claim Your Free Business Review
All UK sectors are experiencing specific challenges at present, particularly in light of the Covid-19 pandemic. Find out how your sector is performing here.
Simply search your Limited Company Name or Company Number
Please select your company from the list below:
We will also check if you're eligible for Director Redundancy
Next Steps
We provide free confidential advice with absolutely no obligation.
Our expert and non-judgemental team are ready to assist directors and stakeholders today.
Free Business Review
---
Claim your Free Business Review to understand what options are available to you.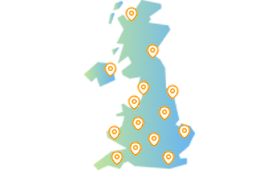 Office Locator
---
Find your nearest office - we have more than 100 across the UK. Remote Video Meetings are also available.
Contact Us Today
---
Free, confidential, and trusted advice for company directors across the UK.