Liquidation and Business Rescue Advice in Barnstaple
"Hello and welcome to Real Business Rescue in Barnstaple. I'm Scott Kippax, and along with my colleagues, we are here to provide expert help, advice, and guidance to company directors, shareholders and sole traders experiencing financial distress."
From our Barnstaple office, Scott and his team are dedicated to helping companies across North Devon and beyond when they are dealing with growing debt, business performance concerns, and increasing creditor pressure. When a company is threatened with the prospect of insolvency, time is very much of the essence; the sooner professional advice is sought, the greater the chances of saving the business from closure.
Take Our Free 60 Second Test
Get an instant understanding of your:
Debt and Asset Position
Formal Insolvency Options
Next steps
Plus much more ...
Start The 60 Second Test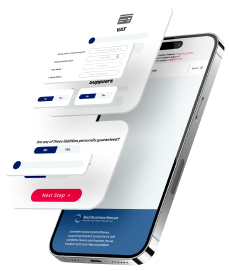 When it comes to business rescue, there are as many strategies as there are companies. What will work in one situation will be wholly insufficient for another. This is why we adopt a bespoke approach, treating every company as the individual entity it is and working to implement a tailored strategy that meets the needs of all concerned. Ian and his team are here to identify the most appropriate solution for your business based on both its current financial position as well as its likely prospects looking ahead.
If your business is being hampered by existing debts, yet it is still doing a healthy turnover, a process known as a Company Voluntary Arrangement (CVA) may be considered. This functions as a formal and legally-binding payment plan that allows a company to repay existing debts using future profits. The company can continue trading while in a CVA, giving it the very best chance possible of emerging as a financial stable and profitable entity.
Get in touch
Whether you are thinking about closing your company, looking at your restructuring and refinancing options, or need advice on dealing with your creditors, your local Real Business Rescue office is here to help. Get in touch with your nearest office today on 01271 308 271
When a company has suffered losses so deep that it cannot sufficiently recover, the best solution for all involved may be the place the company into liquidation. This can be done voluntarily through a director-initiated process known as a Creditors' Voluntary Liquidation – or CVL. As licensed insolvency practitioners, we can as act as liquidators of the company and handle the entire process on your company's behalf. We will liaise with outstanding creditors, as well as engaging with any employees to explain what the process means for them.
If you are experiencing financial problems with your business, or you fear you may be in this position soon, you can arrange a free no-obligation consultation at our Barnstaple office or in nearby Exeter.