Liquidation and Business Rescue Advice in Finchley
"Hello! Welcome to the Finchley office of Real Business Rescue. I'm Mark Fry and I lead the team here at the Finchley office. Myself and my team are here to give help and advice to company directors and their shareholders, on all areas of financial distress."
Our Finchley office is one of over 100 Real Business Rescue locations across the UK. Mark and his team at our Finchley base, support companies big and small through all types of financial and operational difficulties.
Take Our Free 60 Second Test
Get an instant understanding of your:
Debt and Asset Position
Formal Insolvency Options
Next steps
Plus much more ...
Start The 60 Second Test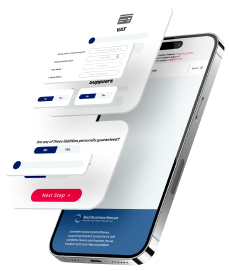 Mark is a licensed insolvency practitioner, and one of the most experienced business restructuring and turnaround professionals working in the UK today. With a career spanning over 25 years, there is very little he hasn't seen before. Mark and his team work tirelessly to give every company the very best chance of survival; so no matter how bad you think your situation is, there is a solution out there which can help and Mark is perfectly placed to help you find it.
Every company is unique in its own way, and due to this financial distress is manifested in a variety of ways. This may be cash flow becoming increasingly restricted, falling into arrears, creditors becoming less patient, and even threats of legal action against your company. No matter the problems you are currently up against, Mark and his team are here to help.
No business owner sets out with the intention of their company failing, and taking that first step in seeking professional advice when things go wrong can be difficult. However, obtaining this guidance during the first signs of impending problems, rather than letting the situation worsen, can make all the difference when it comes to the likelihood of your business being able to be saved.
Get in touch
Don't Worry - There are thousands of other company directors going through the same process. No matter what position you are in and need looking for options, speak to a member of the Real Business Rescue team. It's Free & Confidential. Get in touch with your nearest office today on 020 3282 3849
Like most financial problems, if left alone, the situation is only likely to get worse, and distress of this kind can escalate surprisingly quickly making the turnaround process much more difficult indeed. The quicker you seek the services of a licensed insolvency practitioner, the more options will be open to you.
When it comes to turning around an insolvent company, there is not one solution which will help all businesses. In fact, there are several options available, and the most appropriate one for your business will depend on a range of factors including its current debt levels, the assets it owns, as well as the predicted future performance. If the company is seen as viable, creditors may be open to negotiations in order to reduce your monthly repayments while the company recovers. Alternatively, an administration process may be considered if creditors have turned hostile. Mark and his team are here to talk you through your options and ensure you understand what each one would mean for you, your company, and its creditors, whether that may also mean closing your limited company through a voluntary liquidation procedure if not possible to rescue the business.