Liquidation and Business Rescue Advice in Isle of Wight
"Welcome to the Isle of Wight office of Real Business Rescue. I'm Julie Palmer and I lead a team of insolvency practitioners who will be happy to help if you need any form of assistance relating to corporate insolvency or business recovery."
Real Business Rescue has offices located across the length and breadth of the UK and we have an exceptionally extensive wealth of expertise in the context of corporate insolvency and issues relating to business recovery processes.
Take Our Free 60 Second Test
Get an instant understanding of your:
Debt and Asset Position
Formal Insolvency Options
Next steps
Plus much more ...
Start The 60 Second Test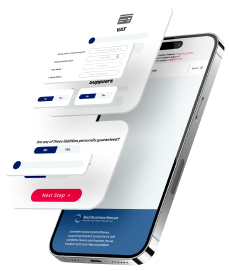 Leading a business that is in serious financial peril and potentially facing the prospect of insolvency is extremely testing for even the most experienced of company directors. Our experts work very closely with directors to give them clear and straightforward guidance on the options available and how best to proceed under any given circumstances.
Accessing timely advice and acting swiftly can make a very significant difference for the better if you're leading a business facing a financial crisis. If you are a company director based on or close to the Isle of Wight then we would be happy to offer a free and confidential consultation to discuss the fundamentals of the challenges you and your company are currently facing.
There are various insolvency procedures we can take to rescue your business, including company administration which allows more time to organise a plan on restructuring. An alternative option is a Company Voluntary Arrangement (CVA) which outlines a debt payment plan over a period of time.
Get in touch
Whether you are thinking about closing your company, looking at your restructuring and refinancing options, or need advice on dealing with your creditors, your local Real Business Rescue office is here to help. Get in touch with your nearest office today on 0198 332 7003
If business rescue is not possible, we can provide support with processes to close your limited company. If for example, you are a solvent company, and would like to bring your business to an end, we can guide you through a Member's Voluntary Liquidation (MVL). There are a few different liquidation options our licensed insolvency practitioners can help you explore, including closure procedures for insolvent companies such as a Creditor's Voluntary Liquidation (CVL).
To complement our industry-leading insolvency advice, Real Business Rescue can also provide specialist advisory services for larger companies. Whether you want to assess your current exposure, refinance existing liabilities, or target your latest acquisition, we can help. A partner-led service, you will be working alongside an experienced professional at every stage.