Insolvency practitioners and liquidators in Warrington for both corporate and personal insolvency advice
"I'm Chris Lawton and I manage the Warrington office of Real Business Rescue. Alongside with my colleagues, I am here to give actionable help and guidance to companies and sole traders dealing with financial worries."
Our services is based on providing details information and clear insight on the key issues around insolvency and liquidation. We have many years of experience...
Our Warrington office is managed by Chris a licensed insolvency practitioner and Partner at Real Business Rescue. Chris has years experience assisting limited company directors and self-employed sole traders who are struggling under the weight of financial distress.
Take Our Free 60 Second Test
Get an instant understanding of your:
Debt and Asset Position
Formal Insolvency Options
Next steps
Plus much more ...
Start The 60 Second Test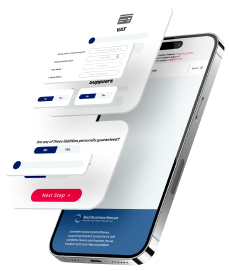 Chris is assisted by a talented team of highly experienced business turnaround experts, committed to providing directors, shareholders, and key stakeholders alike with impartial and practical advice to give the company the best chance of effecting a successful turnaround.
Business recovery is not a one size fits all solution; every business is different in its own unique ways; therefore, you can trust the advice we offer is always uniquely tailored to your company and its own set of circumstances.
The best solution may be entering formal negotiations with creditors – including HMRC - to devise a more affordable and sustainable way of repaying the money you owe via a Company Voluntary Arrangement, placing the company into administration in order to protect it from threats of legal action, or even having the company liquidated if all rescue attempts have been exhausted.
Get in touch
Don't Worry - There are thousands of other company directors going through the same process. No matter what position you are in and need looking for options, speak to a member of the Real Business Rescue team. It's Free & Confidential. Get in touch with your nearest office today on 01925 899 852
Our RBR Advisory team are also on hand to assist in other ways such as securing commercial funding to maximise cash flow, undertaking a process of streamlining to ensure the company is operating as efficiently as possible, while our corporate finance team can help if selling the company if a realistic option.
From their office in Warrington, Chris and his team serve businesses in the town, as well as across the wider North West area. Real Business Rescue has a network of offices located up and down the country, with our Warrington office forming part of this nationwide network.