Private company limited by guarantee: what you need to know
When registering as a limited company, there are two main options open to directors. They can register as a company limited by guarantee, or a company limited by shares. The majority of incorporated businesses in the UK adopt the limited by shares structure as this better aligns with the aims and objectives of a company which is set up to realise a profit for the individuals who run it.
The limited by guarantee (LBG) structure, however, is typically adopted by a not-for-profit organisation which requires its own legal standing and identity. Companies which are often incorporated this way include charities, as well as sports organisations, private member clubs, community projects, student unions, and even political parties.
Received a Bounce Back Loan?
Don't Worry - There are thousands of other company directors going through the same process. No matter what position you are in and need looking for options, speak to a member of the Real Business Rescue team. It's Free & Confidential.
The team are available now -  0800 644 6080
What is the structure of a company limited by guarantee?
In many ways a company limited by guarantee is operated very similarly to one which is limited by shares. They have many of the same responsibilities, administrative requirements, and regulations to follow. Both are bound by the Companies Acts, both must have a registered office address in the country of incorporation, and both have statutory filing obligations such as submitting annual accounts and confirmation statements. 
However, unlike a share company, a LBG company does not have any shareholders, or share capital invested in it; instead the company is controlled by members who occupy the role of guarantors. There must be at least one director (charitable organisations will need two) who will typically also be a guarantor.
Advantages of trading as a company limited by guarantee
The benefits of operating as a LBG company are widely the same as for any limited company. The primary advantage is that members are afforded an element of protection against financial losses the company may make. Just because the company may be a charitable endeavour or a community project, does not mean it is free from financial liabilities. Many organisations of this type lease commercial premises, have finance agreements for vehicles or equipment, as well as having employees.
Should the business fall into financial distress, members could find themselves held personally responsible for these liabilities if the company had not been incorporated with limited status.
Instead, under a limited by guarantee structure, all guarantors agree to contribute a set amount of money as set out in the company's articles of association should the company become insolvent and subsequently enter liquidation. In effect therefore, members' personal exposure is limited to the amount of their guarantee which is typically a nominal sum of often just £1, barring any instances of fraud or negligence.
What happens to the profits the company makes?
In the vast majority of limited by guarantee companies, profits are retained within the company and reinvested in order to further develop and enhance their activities, reach, and objectives. Profits can, theoretically, be distributed to members if this is desired, however, should this happen then the company will not qualify for charitable status. While there is nothing to stop profits being extracted from a company which is limited by guarantee, if this is the aim when setting up the business, then directors would be advised to consider incorporating as a company limited by shares instead.
How can a company limited by guarantee raise funds if it has no shares to issue?
As companies limited by guarantee do not have share capital, they are unable to issue shares to those individuals or companies which want to invest. While this does impose some limits on the ways in which they can source finance, there are still several options open to these types of companies.
A LBG company is still able to borrow money just as a share company would. This could be through traditional channels such as loans and credit cards provided by high street banks, or alternative funding streams such as asset-based borrowing. Although shares cannot be issued, LBG companies are able to issue debentures which can aid the task of securing external funding. Charitable organisations may also obtain capital through grants from the government or local authority, by procuring charitable donations from the public, or charging a membership fee.
Need to speak to someone?
If your company is struggling with unmanageable debts, squeezed cash flow, or an uncertain future, you are far from alone. We speak to company directors just like you every single day, and we are here to give you the help and advice you need.
Call our team today on 0800 644 6080
Do I have to register as a company limited by guarantee?
The only organisations required to incorporate as guarantee companies are those set up for charitable purposes; this is a requirement of gaining registered charitable status. However, most not-for-profit companies will choose to incorporate under this model as the intention behind them is not to generate wealth for the individual members or directors. 
Contact the RBR Team Today
---
Free download
Free Insolvency Report
Claim Your Free Business Review
All UK sectors are experiencing specific challenges at present, particularly in light of the Covid-19 pandemic. Find out how your sector is performing here.
Simply search your Limited Company Name or Company Number
Please select your company from the list below:
We will also check if you're eligible for Director Redundancy
Next Steps
We provide free confidential advice with absolutely no obligation.
Our expert and non-judgemental team are ready to assist directors and stakeholders today.
Free Business Review
---
Claim your Free Business Review to understand what options are available to you.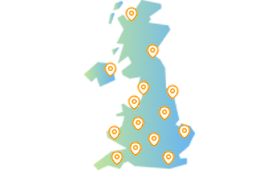 Office Locator
---
Find your nearest office - we have more than 100 across the UK. Remote Video Meetings are also available.
Contact Us Today
---
Free, confidential, and trusted advice for company directors across the UK.