Liquidation and Business Rescue Advice in Eastbourne
"I'm Jon Beard, and I head up the insolvency and business turnaround team here at the Eastbourne office. Along with my colleague and fellow Real Business Rescue Partner, John Walters, we provide expert help and advice to company directors dealing with business insolvency and company distress."
From our office in Eastbourne, Jon and John speak to company directors just like you across Sussex every single day. With combined careers spanning over four decades in the industry, there is little they haven't seen before when it comes to company debt, insolvency, and operational distress.
Take Our Free 60 Second Test
Get an instant understanding of your:
Debt and Asset Position
Formal Insolvency Options
Next steps
Plus much more ...
Start The 60 Second Test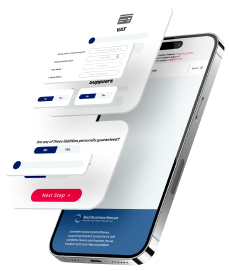 If your business is going through challenging times at the moment – whether this is a downturn in trade, squeezed cash flow, or even insolvency – this does not mean that the business cannot recover. In fact, there are a range of both formal and informal business rescue, recovery, and turnaround strategies which can be put in place to give your company the very best chance of effecting a successful return to form.
Your chances of rescuing the business will be enhanced greatly if you enlist the help of a business rescue and turnaround expert at the very first signs of impending distress. The sooner advice is sought, the more options will be available to the company, and the keener creditors are likely to be to enter into negotiations. If the situation is allowed to go on for too long, arrears will continue to build, and creditors will become increasingly impatient; by acknowledging that you have a problem and are putting plans in place to deal with it, the more lenient and understanding those you owe money to are likely to be.
Get in touch
Whether you are thinking about closing your company, looking at your restructuring and refinancing options, or need advice on dealing with your creditors, your local Real Business Rescue office is here to help. Get in touch with your nearest office today on 01323 453 210
Negotiations can be done on an informal basis, or a payment plan can be solidified and made legally-binding through a Company Voluntary Arrangement (CVA). A CVA requires the agreement of at least 75% (by value) of creditors, meaning a convincing pitch needs to be made to get creditors on board. Jon and John both have extensive experience in this area, with a proven track record of putting together payment proposals that are not only acceptable to creditors, but also affordable and sustainable for the indebted company.
Unfortunately, it is unavoidable that some companies will have challenges which take them beyond the point of rescue. In these cases, it is often the case that closing the business is the best solution for all involved. As licensed insolvency practitioners, John and Jon can act as liquidators, ensuring the company is closed in an orderly manner which is in accordance with the rules set out in the Insolvency Act 1986.